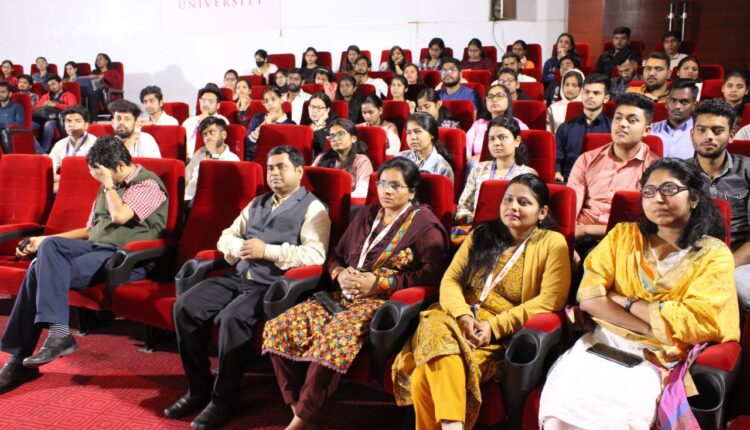 Galgotias University hosts Workshop on IPR and IP Management for "Start-ups"
TEN NEWS NETWORK
Innovation Council of Galgotias University successfully organized "Workshop on Intellectual Property Rights (IPR) and IP Management for Start-ups" in collaboration with Intellectual Property Office, Delhi, Government of India.

Around 200 participants including UG, PG, PhD students and faculty from various departments of Galgotias University and other institutions participated in the workshop through offline mode.
The Vice Chancellor of the University Prof. K. Mallikarjun Babu inaugurated the workshop with lamp lighting ceremony. He informed the participants that Galgotias University is at 8th position for filling maximum number of patents at national level. He continued that the university has set target to become no. 1 university in India to file maximum number of patents.
The workshop was inaugurated by Prof. Arvind Kumar Jain, Dean, School of Basic & Applied Science. He motivated the participants to know the process of Intellectual Property Rights and IP Management. The workshop was then conducted by Hammad Rizvi.
Shailendra Singh, Patent and Design Examiner Group, a Gazetted Officer from Patent Office, Ministry of Commerce and Industry, New Delhi briefed the participants about Patents, Designs, Trade Marks, Geographical Indications, Copyrights, Semiconductor Integrated Circuit Layout-Design etc. Dhruv Galgotia, CEO, Galgotias University, conveyed his best wishes to the entire team of Dr. Gaurav Kumar for conducting various activities related to innovation, entrepreneurship and startups and contributing to the Institution's 4 star rating Innovation Council 4 Star rating.
Dr. Bharti Jain, Founder, Swash Legal Consultants, Advocate (Delhi Bar Council) and Registered Patent Agent explained the processes of Intellectual Property Rights through case studies. He kept on explaining on how to leverage Intellectual Property Rights for business benefits. At the end of the session, more than 25 participants asked their questions and received satisfactory answers. Prof. Rajendra Singh, Research Advisor Galgotias University and Dean Prof. Arvind Kumar Jain presented mementos to Ashish Prabhat and Dr. Bharati Jain.
Dr. Sumedha Mukherjee concluded the session with vote of thanks.