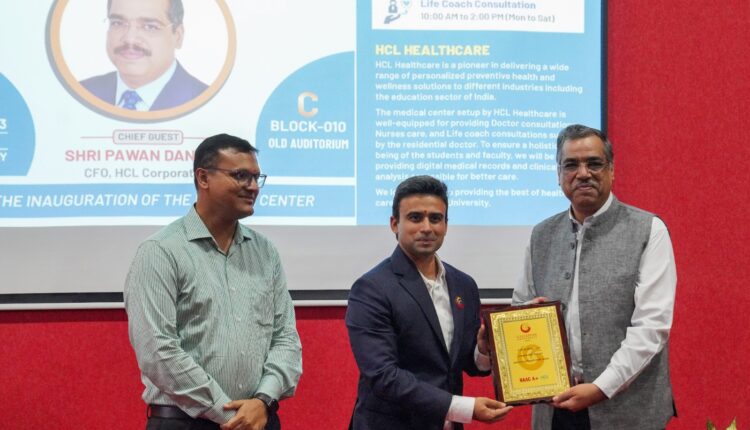 Galgotias University partners with HCL Healthcare to set up medical center at its campus
TEN NEWS NETWORK

Galgotias University has entered in to an exciting new partnership with HCL health care for setting up a medical center at its campus in Greater Noida.
HCL health care is the delivery arm of HCL group with a nation wide network of multidisciplinary health care clinics which adopt best global practices.
The partnership between HCL health care and galgotias university is the realisation of a long cherished dream to make quality health care accessible to the intire galgotias family.
HCL is at the for front of building resilient systems for health care which accessible in urban and rural areas alike. Also as are digital technology leader, HCL has access to digital platform for sharing innovative and solutions to ensure universal health coverage.
The chief guest on the occasion was Mr. Pawan Dahwar, CFO, HCL corporation who stated that providing good governance was a priority for their healthcare initiatives. Mr. Sudhir Patro Business Head HCL encouraged the students to take advantage of all the services that HCL medical centre has to offer. Mr. Abhishek Ghosh Senior Vice President – BUSINESS DEVELOP. Corp CO-Initiatives-the chief strategic officer, HCL also blessed the students. Speaking on the occasion the CEO, Me. Dhruv Galgotia said that he wishes that the Galgotias University students receive the very best of medical care. " We are privileged by this association," he added. The Advisor to chancellor Prof (Dr.) Renu Luthra said that Bharat is the land of 'Aarogya' a term that has been referred in the Indus Valley Civilization. As a resurgent Bharat is regaining its rightful place at the global centre stage, the healthcare sector will be its prime focus.