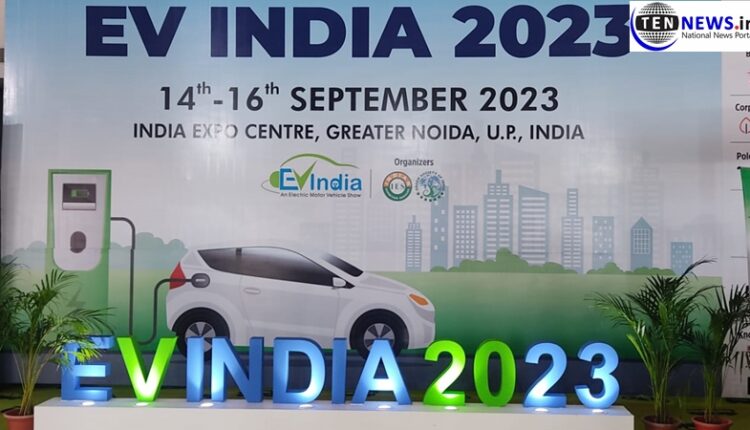 MP Dr. Mahesh Sharma Inaugurates EV India 2023 at India Expo Mart
TEN NEWS NETWORK

Greater Noida (September 14, 2023): Electric vehicles are not just the future of India but the entire world. In line with this, the EV India 2023 exhibition is being held at India Expo Mart in Greater Noida from September 14th to 17th. The event was inaugurated by the Chief Guest, Dr. Mahesh Sharma, Member of Parliament from Gautam Buddha Nagar and former Union Minister.
The main organizer of the show, Swadesh Kumar, stated that EV India 2023 is the third edition of this electric vehicle exhibition, making it the largest electric vehicle show in India. It features participation from companies involved in manufacturing electric vehicle components across India, as well as international companies showing their interest in the sector.
He further emphasized the growing problem of pollution and the urgent need to address it. To combat this issue, the platform aims to promote electric vehicles, with the vision of using electric bikes, scooters, and cars in the near future. Numerous companies are showcasing their products at the event, which offers free entry to visitors from all over India. Over 200 exhibitors are participating, contributing to the advancement of electric vehicle technology and products. Additionally, more than 15 electric vehicles are set to be launched during the exhibition.
Dr. Mahesh Sharma, the Member of Parliament from Gautam Buddha Nagar, praised the Indian government's efforts in recognizing the need for cleaner energy solutions. He acknowledged the role of leaders like Prime Minister Narendra Modi and Union Minister Nitin Gadkari in promoting clean and green energy, as well as hydrogen-powered vehicles. He stressed that the goal is not just to introduce electric vehicles but to leave a legacy for future generations, highlighting the importance of using renewable energy sources such as solar energy, green energy, and hydrogen.
Dr. Sharma also pointed out that embracing green energy is not just an environmental necessity but also a technological one, as fossil fuels are not a sustainable long-term solution. He expressed his delight at the development of Greater Noida and its recognition on the global stage after the construction of the airport.
EV India 2023 is poised to make a significant impact on the electric vehicle industry in India and contribute to the global shift towards sustainable transportation solutions. As the world faces increasing environmental challenges, exhibitions like this one play a crucial role in promoting clean energy and eco-friendly transportation alternatives.