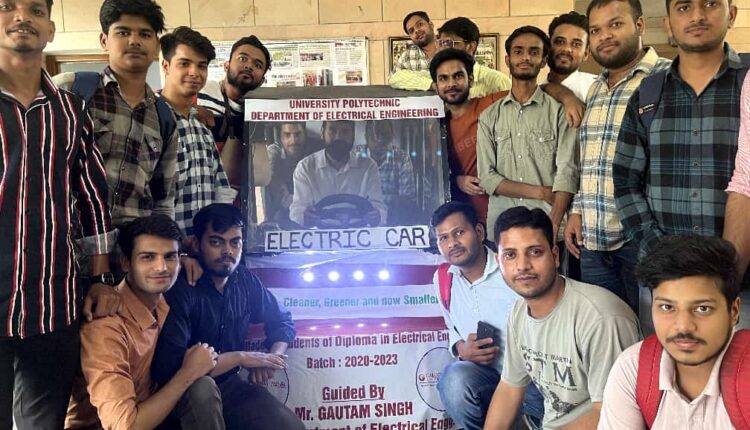 Galgotias University students develop low-cost electric vehicle using scrap materials
In a remarkable display of innovation and commitment to sustainable transportation solutions, students from the Diploma in Electrical Engineering program at University Polytechnic, Galgotias University have successfully developed a low-cost electric vehicle (EV) using scrap materials. This pioneering project aims to address the high-cost barrier associated with electric vehicles and promote an eco-friendly future.
Under the supervision of Mr. Gautam Singh, Head of the Department of Electrical Engineering, University Polytechnic, Galgotias University, the students embarked on a mission to repurpose and reuse materials to construct an affordable electric vehicle. Their efforts were met with great success, showcasing the potential of utilizing available resources to drive down costs and enhance sustainability in the automotive industry.

The key components of this innovative electric vehicle include a 900W, 48V, 3000rpm Brushless DC (BLDC) motor and a 100Ah, 12V four lead-acid battery configuration. By creatively integrating these elements and optimizing the vehicle's design and engineering aspects, the students have achieved an impressive outcome.
The choice to utilize scrap materials not only significantly reduces costs but also holds important environmental implications. By repurposing materials that would otherwise contribute to waste, the students have showcased the potential for reducing the ecological footprint of electric vehicle manufacturing.
One of the notable features of this low-cost electric vehicle is its estimated range. Calculations based on the battery capacity, motor power, and vehicle weight of 200kg indicate an estimated range of 113 kilometers. This estimation takes into account an average energy consumption of 0.2 kWh/km, providing a practical and reliable transportation solution for short to medium-range journeys.
Mohit Gaharwar, Principal of University Polytechnic, expressed his utmost admiration for the students' accomplishment. He extended his congratulations and best wishes to the students for their exceptional work in developing this affordable electric vehicle. Mr. Gaharwar recognized the project's potential to drive positive change in the automotive industry and emphasized the importance of sustainable practices in engineering.
The successful completion of this project serves as a testament to the ingenuity and dedication of the students at the Department of Electrical Engineering, University Polytechnic, Galgotias University. It demonstrates their ability to think beyond conventional boundaries and leverage available resources to create impactful solutions.
As the world seeks greener alternatives for transportation, the efforts of these students present a promising step forward. Their project exemplifies the potential of low-cost electric vehicles constructed from scrap materials, inspiring further exploration into sustainable mobility and environmental consciousness.