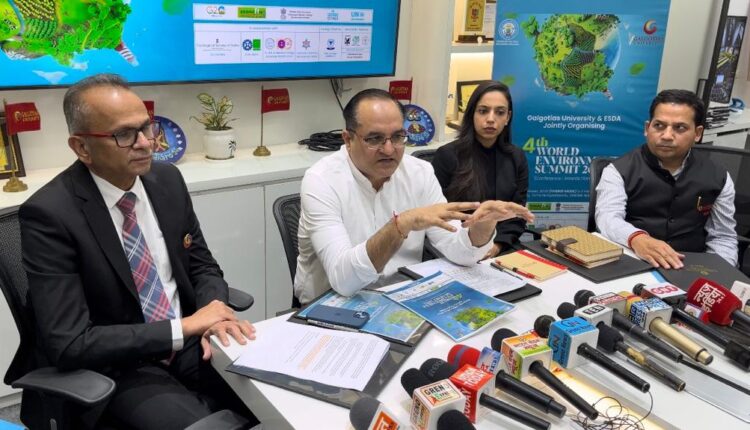 Galgotias University to Host 4th World Environment Summit 2023 with G-20 Backing
TEN NEWS NETWORK

Galgotias University, in collaboration with India's G-20 Presidency, is all set to host the 4th World Environment Summit 2023, a grand event featuring conferences, awards, and exhibitions.
K. Mallikarjuna Babu, the Vice Chancellor of Galgotias University, expressed the uniqueness of this forthcoming grand convention. Set to take place from November 4 to 6, 2023 (with a hybrid mode on November 4 and 5 and an online mode on November 6), this summit will see the participation of esteemed organizations such as CSIR-NEERI, Dr. Bhim Rao Ambedkar College (Delhi University), Zoological Survey of India (Kolkata), MOEF&CC (Government of India), in collaboration with GRC India, MSMECCII, and international partners Villa College Maldives, Tribhuvan University, and Kathmandu, Nepal. The event will be held at Galgotias University's Greater Noida campus in Uttar Pradesh and will include the collaboration of the Zoological Society of Bangladesh.
Raj Bhati, the program coordinator and director of the marketing department at Galgotias University, shared that this summit is expected to draw renowned figures in the fields of education, science, medicine, policy-making, research, environmentalism, journalism, social work, civil society, and other distinguished individuals from across the globe. Anticipating a significant turnout of individuals and students.
In conjunction with India's G-20 Presidency Year and Azadi ka Amrit Mahotsav, Galgotias University, alongside the authorized authorities of the ESDA India Organization Committee, extends a warm invitation for widespread participation. Dr. Jitendra Nagar, Vice President of ESDA India, stressed the urgency of addressing the global environmental crisis, highlighting issues of air and water pollution. He emphasized the need for concrete actions to protect the environment, a topic that will be extensively discussed in a dedicated session during the conference.
Dr. K. Mallikarjuna Babu, Vice Chancellor of Galgotias University, pointed out the pressing challenges stemming from rapid growth, urbanization, and industrialization, including environmental pollution and climate change. He stressed the importance of swift action in tackling these issues.
Aradhana Galgotias, Director of Operations at Galgotias University, highlighted the significance of the World Environment Summit Milan 2023. The event aims to foster collaboration among stakeholders in addressing pressing environmental challenges. It will bring together participants from four continents and 22 Indian states, with the total number of attendees exceeding 600. With its 20 diverse sub-themes in addition to the main theme, this conference has garnered global recognition and stands as one of the largest environmental protection initiatives in India.