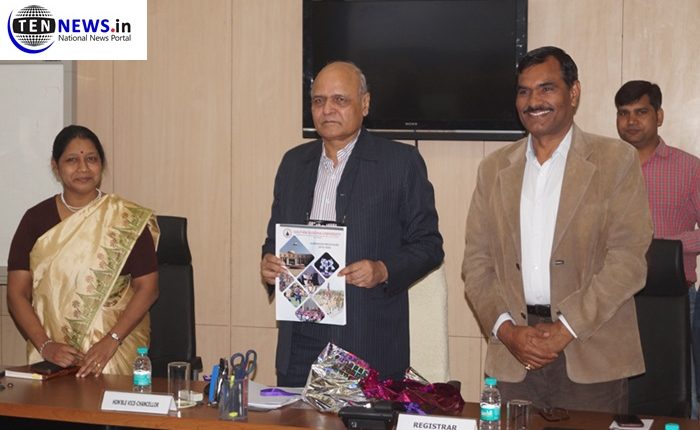 Gautam Budha University to offer 33 new courses from next academic session , last date for application 22nd June
Saurabh Kumar / Baidyanath Halder

Greater Noida (14/03/2019) : Gautam Budha University has opened its admission process for session 2019-20 with 33 new programs added to its curriculum. These programs are in the field of sunrise technologies and areas of emerging importance. Btech in Artificial Intelligence, MBA – Business Analytics, Mtech in Railway Signaling, Telecommunication & RAMS are some the courses which will be offered by the university.
From 13th March students can apply online for admission process, thereafter on 18th May university will conduct an online test which is to be held in Pan India at 64 different online examination centres. On 20th March result will be declared after that from 29th counselling will begin.
While interacting with Ten News Bhagwati Prakash Sharma, Vice Chancellor GBU said "Gautam Budha University is among some of the three-four University which are providing courses like B tech in Artificial Intelligence, MBA – Business Analytics, M tech in Railway Signaling etc. Apart from this we want to compile our Ancient scriptural history, the culture and traditions and the concept of Greater India that we see from Indonesia to Afghanistan in a form of Documentation. So that things that got reviled in the last 50 years during archaeological excavation can get a place in our curriculum and for this, we also had revamped our board of studies."
We are bringing short courses and add on certificates for courses machine learning, 3 d printing, Block chains, Electric drives apart from this we signed a Mou with many Industries like (NIELIT, C-DAC) etc."
With the 33 additional courses now the university has a total of 95 courses and university administration said that by the next year we will full fill our entire five thousand seats. Soon the university will be having a mega job fair from 13th to 16 April in which more than 100 companies will be in campus. During this mega job fair around 10 thousand students from different colleges will participate in this Job fair.
In another initiative initiated by university registrar, Bachchu Singh , university will be offering free coaching for students who want to opt for civil services.