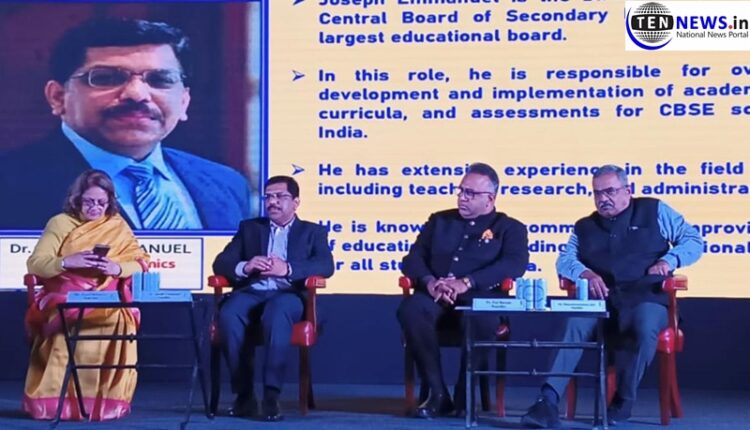 Gurgaon (India), February 11, 2023: The Gurgaon Progressive Schools Council (GPSC), also known as Sahodaya Gurgaon, held its annual convention today, at the Grand Hyatt in Gurgaon.

The theme of this year's convention is "The Confluence of schola-tertiary-industry should be mandatory to be 'Future ready.'"
The conference featured a lineup of prestigious speakers, including Dr. Joseph Emmanuel, Director Academics, CBSE; Dr. Raj Kumar, Vice Chancellor of O.P. Jindal University; R. V. Bala Subramanium Iyer, Vice President of Reliance Industry; Captain Indu Boken, District Education Officer; Sairee Chahal, Founder and CEO of Sheroes; Major General Dr. Bipin Bakshi, National Security and Defense Analyst; and Dr. Arunabh Singh, Chairperson of Nehru World School, amongst others.
The conference focused on providing a platform for discussing the skills needed for the confluence of school and industry and to create a future-ready generation.
In a panel discussion moderated by Rupa Chakravarty , Chairperson , GPSC and Director , SUNCITY School , Gurugram the, CBSE Director Joseph Emmanuel said, "Education is for man-making, and the way we teach our children reflects how we lead them. Preparing our children to face the challenges of life is very important, and for a 21st century child, they deserve 21st century teaching."
Emmanuel added that "Teachers need to be highly skilled and have the ability to teach 21st century requirements for children. All sorts of skills and values—the way they collaborate with the rest of the world, how they deal with adverse situations, everything should be part of our curriculum, and everything should be part of our classroom transaction."
The conference also had panel discussions and roundtable presentations, providing attendees with the opportunity to engage with industry leaders and experts in the field of education.
With education becoming an accurate indication of divergent thinking and helping us understand the dichotomy of constant change, this conference aims to provide valuable insights and guidance to ensure that the next generation is well-equipped to face the challenges of the future.
Gurugram Progressive Schools Council | XXI Annual Convention 2023 | Photo Highlights