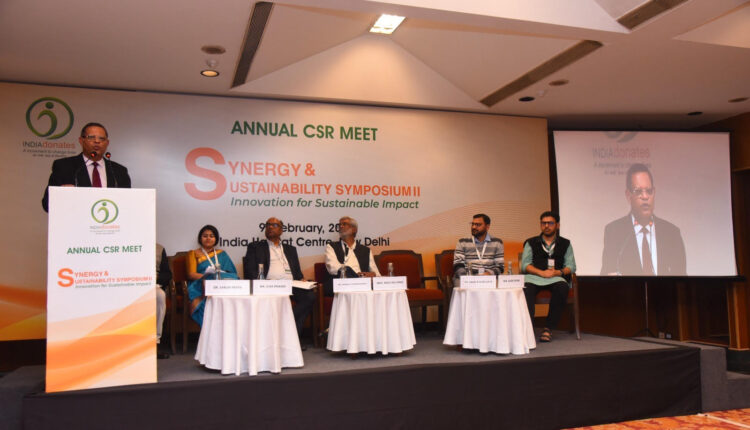 Synergy and Sustainability Symposium II hosted by INDIAdonates receives an overwhelming response

Synergy and Sustainability Symposium II hosted by INDIAdonates brought together some of India's largest corporates, CSR Foundations, charitable and non-profit social enterprises in the growth and development sector.INDIAdonates, a flagship initiative of DevPro Trust work as ENABLER, with some of the best NGOs in India to support them in the mobilization of critical resources and in building strong institutions. Their annual event 'Synergy and Sustainability Symposium' was held at the India Habitat Center on 9th of February 2023.
The event began with a Key-note address by Mr. Shankar Venkateswaran former Head of Sustainability at Tata Group and Operating Partner and Head ESG, ECube Investment Advisors  followed by a panel discussion with dignitaries like, Brig. Rajiv Williams, Head CSR, Jindal Stainless Limited Group (JSL); Mr. Naval Kishor Gupta, India Hub-Director, Restless Development; Dr. Sanjay Patra, Executive Director, Financial Management Service Foundation & Founder, INDIAdonates; and Mr. Asim Khan, CSR Specialist, Cadence Design Systems.The panel discussed various aspects of sustainability in the CSR sphere including the current scenarios, innovations and its overall impact. This was followed by a felicitation ceremony to honor organizations that resourcefully added to the sphere with their extraordinary innovative models to scale, multiply andsustain impact over the years like Healing Fields Foundation, Hyderabad for Innovation in Enabling Healthcare Accessibility; Language and Learning Foundation for Innovation in Resource Mobilization; Oasis India for Innovation in Securing Sustainable Livelihood; Hooga Seed Keepers Collective for Innovation in Environment & Climate Sustainability.
The event also featured an outstanding performance (street play)by kids from Jamghat NGO.
Speaking about the overall event, Dr. Sanjay Patra, Founder of INDIAdonates shares, "In the Synergy and Sustainability Symposium INDIAdonates brought CSR Foundations, Corporates, Non-profits, Social Enterprises from across the country together to look at social innovation and look at avenues of making social innovation possible with the right mindset, the right investment and the right conducive eco-system."
After receiving an overwhelming response INDIAdonates will soon announce the next city the annual event sets foot into in 2024.