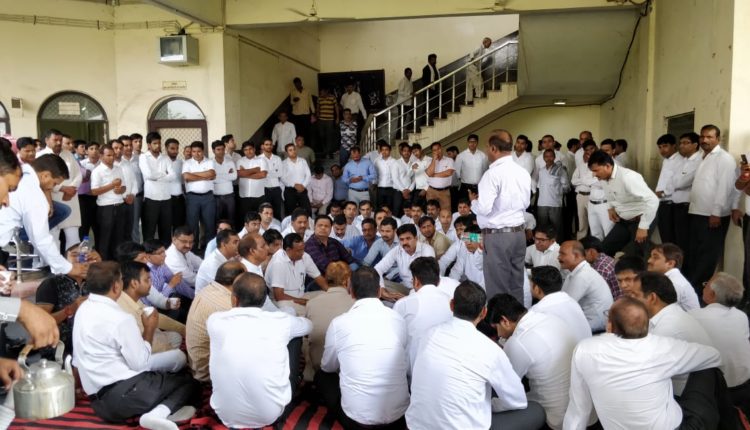 Greater Noida Lawyers Stage protest demanding action against accused constable
Saurabh Kumar
Yesterday a video went viral in which a police personal is been seen thrashing a man while some of his colleagues were trying to obstruct the person who is recording the incident by shutting the door.
Latter the victim is identified as Mahendar Singh an advocate practicing in District court and a resident of Garhi Chaukhandi village. As per the reports he tried make aware investor regarding a property in sector 121. As per the victim he and his family own a land in the village over which a builder is constructing a housing society. The land dispute is sub-judice in the court.
On the day of incident he sent some of the youth with the pamphlets having details of the disputed land. After which the builder called the police and the youths were taken to Garhi Chaukhandi police chowki . When he gets to know about this he went to police chowki and raised question to police personals regarding detention of youths. Soon the talk turned into heated argument and Constable Vireandar Kumar slapped him.
As the incident got recorded and went viral toady all the advocates protested and put lock on the door of district court. Advocates demanded A FIR should be registered against the accused and he should he dismissed as such incidents are getting common.
SSP Ajay Pal Sharma told that "the accused constable in been sent to police line and the matter will be handed to Circle officer II for investigation. As reports come proper action will be taken.