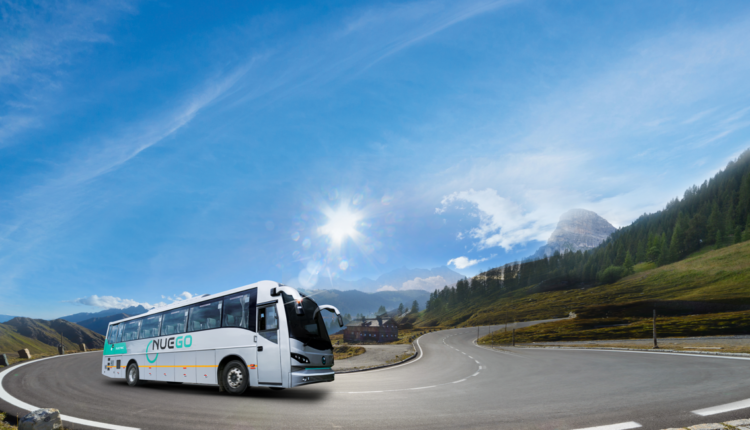 GreenCell Mobility launches first electric bus on Agra-Delhi route under its brand NueGo
New Delhi; March 21, 2023: – NueGo, India's leading premium electric bus coach brand from GreenCell Mobility, introduces its first-ever electric bus services on Agra-Delhi route. NueGo, which was launched last year, promises to deliver a seamless booking experience, exceptional ride quality and in-cabin experience, while ensuring a safer and greener ride. The brand is successfully plying its fleet currently plying across India primarily on the Bhopal-Indore, Delhi-Chandigarh, and Delhi-Jaipur routes.

NueGo is the flagship inter-city pan India electric mobility coach brand of GreenCell Mobility. Passengers traveling on this route will be getting flight-like experience as each commuter is guided to the pre-allotted seat which has booked, presented with sanitized and fresh disposable rub to name a few. NueGo buses are fitted with innovative technology and offers end to end convenience for travelers with coaches being run on a daily basis eight times to begin with, between Agra-Delhi.
In Agra, the route of NueGo buses will be along Waterwork Chauraha, Kuberpur Cut and Mathura Toll while in Delhi the buses would be taking the route through ISBT Anand Vihar (ITC Travels), Sarai Kale Khan, Botanical Garden Metro and Zero Point, Noida. NueGo services will be available at a special inaugural price, starting from INR 399/per seat on this route.
Speaking on the launch, Mr. Devndra Chawla, CEO, GreenCell Mobility said, "We are thrilled on launching our new services in the central part of the country and are entrusted to redefining the shared & connected green mobility customer experience. We are convinced that the services unveiled on this route will provide value and expediency to the travellers. Through our NueGo services, we will bring a paradigm shift to the travel experience while delivering zero tail pipe emission."
A customer centric brand, NueGo coaches go through 25 stringent safety checks including mechanical and electrical inspections. These electric coaches can run 250 kilometers in a single charge, with the air conditioners on, in traffic conditions. NueGo coaches are fitted with innovative technology and offer end to end convenience for inter-city travellers with focus on Safety, Punctuality, and seamless customer experience.
NueGo has well trained and courteous staff, offers airport-like premium lounges in selective cities. These lounge offers customer assist, luggage management services and curated F&B menu and on board with on-time performance