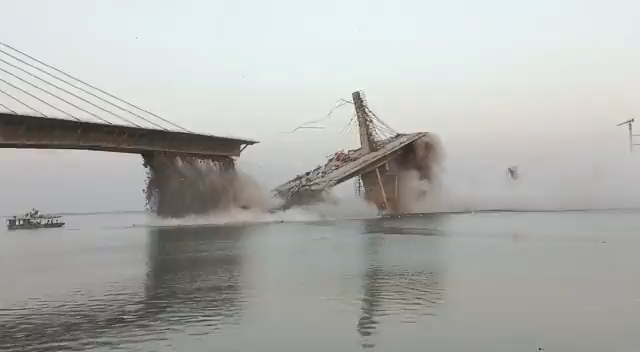 Guard missing after bridge collapse in Bihar, search ongoing
Ten News Network

New Delhi, 05th June 2023: Following the collapse of an under-construction bridge in Bihar's Bhagalpur, the authorities are now looking for a guard working near the bridge, and the rescue officials are now looking for him.
This comes as earlier today, the 4-lane bridge in Bihar came crashing down, leading to a war of words between the state government and the opposition BJP.
A portion of the same bridge collapsed in April last year, following which the authorities approached IIT-Roorkee to investigate. The reports at that time had revealed serious defects in the composition of the structure.
Officials further added that they decided not to take any further chances and went ahead with pulling down parts of the bridge.
The government has ordered an inquiry into Sunday's incident and said strict action should be taken against the erring officials. The overall construction of the bridge is estimated to be around Rs. 1,700 crore. State Opposition leaders of belonging to the BJP, have demanded a high level inquiry into the accident.
This comes as the SDRF and NDRF teams try to trace the guard from the SP Singa Company, who has been missing since the accident.