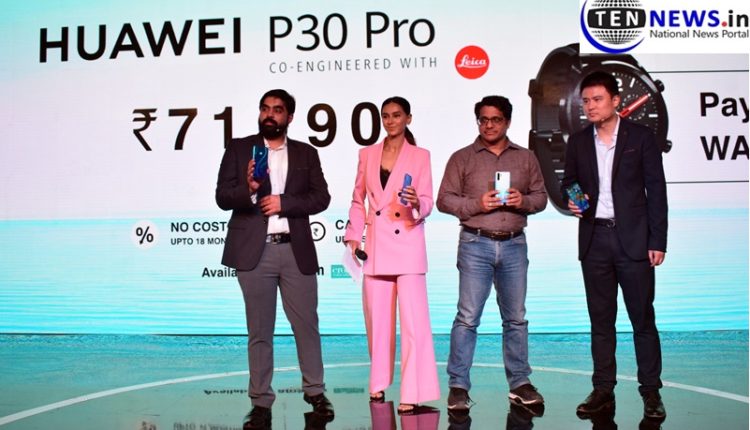 Huawei launches P30 Pro and P30 Lite smartphone in India: Price, specifications, features
Vishal Malhotra (Photo/Video) By Lokesh Goswami Ten News Delhi :
New Delhi : Today, Huawei announced the launch of HUAWEI P30 Pro & Huawei P30 lite in India, showcasing the world's most advanced smartphone technology till date.
Building on the HUAWEI P Series' DNA in design and technology, HUAWEI P30 pro is the company's most technologically comprehensive smartphone. Achieving a record-high overall Dx0 Mark score of 112, HUAWEI P30 Pro is bringing about a paradigm shift in camera technologies and is setting new standard for videography. The device is slated to disrupt the digital imaging technology space. The flagship device boasts of a 4200 mAH battery with unique SuperCharge and Wireless Reverse Charging technology, stupendous performance driven by the world's first 7nm mobile process chipset, Kirin 980, guaranteeing stronger performance and lower power consumption and packs, in a GPU Turbo 3, taking mobile gaming to the next level.
HUAWEI P30 Pro rewrites the rules of smartphone photography with numerous breakthrough innovations and ingenious design. The device features the path breaking HUAWEI SuperSpectrum Sensor, an optical SuperZoom Lens, a new HUAWEI Time of Flight (ToF) Camera, and enhanced optical and Al image stabilization technology.
Equipped with some of the world's most revolutionary technologies, the HUAWEI P30 Pro allows users to capture incredible photos and videos in every scenario.
Commenting on the announcement, Tornado Pan, Country Manager (Huawei Brand), Consumer Business Group, Huawei India said, "India is a strategic market for us and we are committed to bring in new products to the Indian market. We recognize that consumers here are remarkably technology-savvy and therefore we continuously strive to launch the best of products for our patrons here. With the launch of HUAWEI P30 Series in the India, we are rewriting the rules and reshaping everyone's perception of mobile photography."