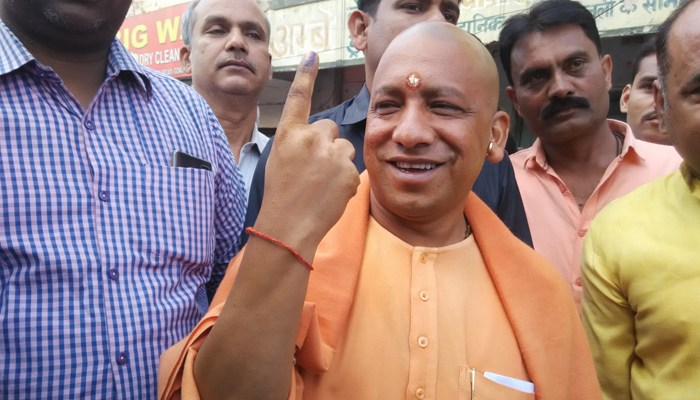 I am confident that NDA will cross the margin of 400 seats: UP CM Yogi Adityanath after casting vote
Prerit Chauhan / Rahul Kumar Jha
New Delhi: The seventh and final phase of the Lok Sabha Elections 2019 is officially underway with polling stations open across several states. The election 2019 is being held on Sunday in 59 constituencies, including in Varanasi where Prime Minister Narendra Modi is seeking to retain the seat.



UP CM Yogi Adityanath offered prayer at the Gorakhnath Temple before casting his vote in the final phase of General Elections. Yogi was among the early voters in the seventh phase of Lok Sabha poll. He exercised his franchise at polling booth no. 246 in Gorakhpur.

UP CM Yogi Adityanath addresses the media after casting his vote in Gorakhpur said, "I am happy to see the contribution of Uttar Pradesh's citizens towards building the nation.Elections are a festival in a democracy, the way people have participated in these elections is commendable. Compare UP and West Bengal, violence wasn't reported from UP in the last 6 phases of elections unlike West Bengal."
"Even in UP 7 phase of polling took place but not even single violence has been reported," said, UP CM Yogi Adityanath attacks Mamata Banerjee over West Bengal's violence
"I am confident that NDA will cross the margin of 400 seats," added Yogi.