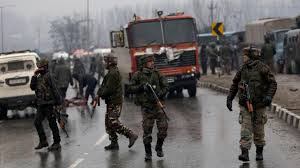 I want to send my other son for the service of motherland: father of CRPF personnel martyred in Pulwama Terror Attack
New Delhi: (15/02/2019) Around 37 army men were killed in a terror attack when a vehicle with a suicide bomber and explosives rammed in to a bus carrying army men in Pulwama is a district in Jammu and Kashmir.
The CRPF in its statement said, "We regret to inform that 37 personnel attained martyrdom and five personnel were injured in the ID blast at Awantipora in Jammu and Kashmir. The injured are being treated at the 92 base hospital of the Army in Srinagar."
The horrific incident happened when more than 2,500 Central Reserve Police Force personnel, many of them returning from leave to rejoin duty in the Valley and were travelling in the convoy of 78 vehicles, suddenly a vehicle hits a bus on the Srinagar-Jammu highway at Latoomode in Awantipora.
According to the officials, Pakistan based terror group, Jaish-e-Mohammed (JeM) has claimed responsibility for the attack and the sice bomber Adil Ahmed who led the vehicle full of explosive, Adil has recently joined the militant group.
Today, Prime Minister Narendra Modi observes two-minute silence for the CRPF personnel who were killed in Pulwama Terror Attack yesterday.
Reacting to the horrific incident former Army Chief, Bikram Singh said, " It shows change in tactics of terrorists. IED has been used after a long time, IEDs were used in the past, in 2001-2002 when I was there, this was a normal practice of terrorists, then they resorted to firing from distance."
Following the terror attack United States, State Department has issued a travel advisory to its citizens asking them to reconsider travel to Pakistan due to terrorism.
Intergovernmental organization United Nations also condemn the attack, "We strongly condemn today's attack in J&K's Pulwama. We express our deepest condolences to the families of those who lost their lives & to the people & Govt of India. We wish a speedy recovery to injured & call for those behind the attack to be brought to justice", UN said in its statement.
While the father of CRPF Personnel Ratan Thakur, who lost his life in Pulwama Terror Attack want to send his other son as well to fight, he is ready to give him up for the service of Mother India.
After this shocking incident, it is likely that the government may cancel talks on Kartarpur Corridor.
Jammu Chamber of Commerce and Industries has announced a peaceful Jammu Bandh tomorrow (February 15) as a protest against the killing of CRPF Jawans in Pulwama.