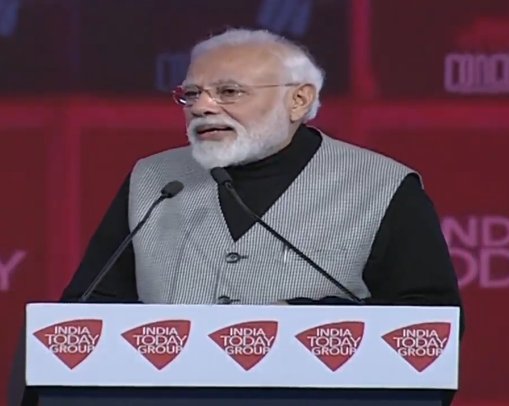 New Delhi: Prime Minister Narenda Modi's strong response to the terror in Pulwama has made it clear that he has managed to change the fundamentals of Indian foreign and security policy in his governance.
Prime Minister Narendra Modi speaking about a number of issues including the ongoing conflict between India and Pakistan at the India Today Conclave, said,
"This is a New India. We are fully capable of protecting our nation and giving a befitting reply to those who disturb the atmosphere of peace. while the entire world stood behind India in its fight against terror, some parties raised questions over it. One of the challenges before the country is some people opposing their own country. When the entire nation today is standing with the armed forces, some parties are casting doubts on them."
He further said, "the Opposition is free to criticise him and his policies but their anti-Modi tirade should not help terrorists like JeM chief Masood Azhar and JuD head Hafiz Saeed. In your stubborn desire to oppose Modi, see that you don't end up strengthening terrorists like Masood Azhar and Hafiz Saeed."
"These are the parties whose statements and articles are being used by Pakistan against India. In their fixation with criticising Modi, they are opposing the country and comprising its interests," he added.