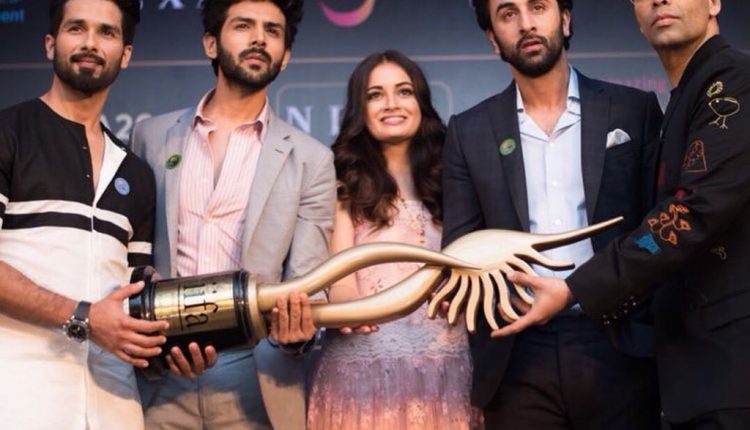 IIFA season kick starts! Ranbir Kapoor, Kartik Aaryan and Shahid Kapoor announced 19th IIFA in Bangkok
Prerit Chauhan / Saurabh Shrivasta
New Delhi: llFA fever returns to Bangkok, Thailand exactly after a decade with the the edition of the NEXA llFA Awards styled by Myntra. IIFA 19th Edition in Bangkok would play host to a melange of glitz, glamour and Bollywood's finest talent, global dignitaries, world media, Indian cinema fans and enthusiasts from across the globe at the highly anticipated star-studded weekend from 22nd & 24th June, at the reputed Siam Niramit Theatre.
To reveal key highlights about the upcoming llFA festivities, Bollywood biggies Ranbir Kapoor, Karan Johar, Dia Mirza, Shahid Kapoor and Kartik Aaryan were joined by notable dignitaries at Official llFA Press Conference in Delhi today.
The main awards gala on the last day will be hosted by the inimitable Riteish Deshmukh and Karan Johar, both known for their quick wit. Among the performers will be stars like Ranbir Kapoor and Shahid Kapoor. For Ranbir, returning to the IIFA stage would be special as he had won the Best Debutant Award at the 2008 Bangkok edition of the gala.
Commenting on the occasion, Ace Director, Karan Johar said, "l was privileged to be at the Millennium dome in london when The llFAs were born and I've parlicipaled in the journey across lhe world . My father and l have been part of the llFA Advisory Board and share the passion to take lndian cinema across the world."
Sharing his thoughts, Bollywood Heartthrob Ranbir Kapoor Said, "IIFA Bangkok holds a very special place in my heart, I won the besf debutante award at "IIFA 2008 in Bangkok. The 19th Edition of IIFA weekend And Awards is going to be a great one and I om eager to connect with my fans and look forward fo giving a power-packed performance."