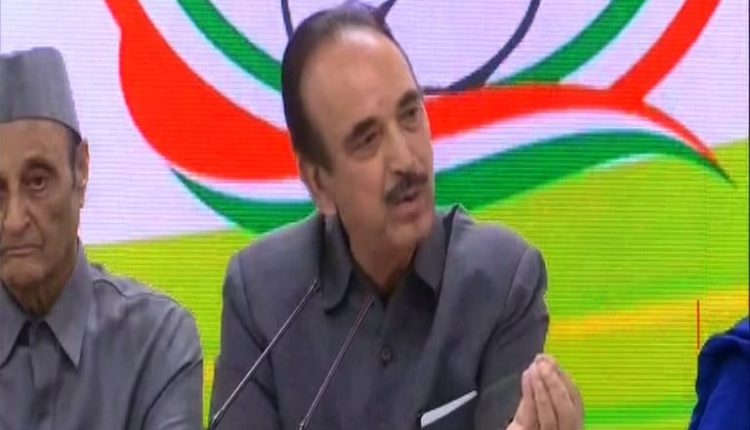 New Delhi: (03/08/2019) Senior Congress leaders Ghulam Nabi Azad, P Chidambaram, Ambika Soni, Anand Sharma, Dr Karan Singh addressed media on deployment of additional troops in Jammu and Kashmir.
Addressing the Media, Ghulam Nabi Azad, said, "The advisory that was issued by Home Ministry yesterday is worrisome and people of the entire nation as well as of Jammu & Kashmir are scared. No govt has ever asked tourists to go back. Such thing has never happened.There has been an increase in the number of tourists in J&K; from labour class to Amarnath pilgrims. In such a situation, the additional security is a matter of concern for the whole country."
He further said, "10 days ago a letter was issued asking all the Police officers to clarify their position to deal with the riots within 24 hours. This has never happened in 30 years. The entire country is worried by the advisory issued from the Ministry of Home Affairs yesterday.The Ministry of Home Affairs has instructed all tourists and Amarnath pilgrims to return from J&K, despite having 15 days of travel left. This has never happened before."
"Even in the year 2000, when most passengers and civilians were killed in an attack, no such advisory was issued. The labourers living in J&K are returning. Students from various educational institutions are returning. The govt is sending buses to bring them back. A similar situation happened under BJP- backed VP Singh govt in 1989," added Nabi.
Ambika Soni said, "Going by the current situation of J&K, under the leadership of Former PM Dr. Manmohan Singh, Congress's Policy Planning Group, the issue was raised. The fear that is being created and the cancellation of the Amarnath Yatra is just not fair."
Speaking on the issue, Dr Karan Singh said, "In my 70 years of public life, I have never seen a situation like this in J&K where even the Amarnath Yatra had to be closed. This will leave a deep impact on Shiva devotees."
"Today the situation created in Jammu & Kashmir will eventually lead to the end of all the development in the state. There will be severe financial losses." added Singh.