Independence Day: The tallest National Flag in Noida – Greater Noida
Watching our National flag being hoisted and fluttering in the pale-blue sky always fills us with a sense of pride, especially on National Days including Independence day.
The thing with our National flag is that the higher or taller it is fluttering, the more chills we feel deep down our spine.
When it comes to the highest or tallest flag in Noida – Greater Noida, it is certainly the 163 ft tall flag in India Expo Mart in Knowledge Park area in Greater Noida.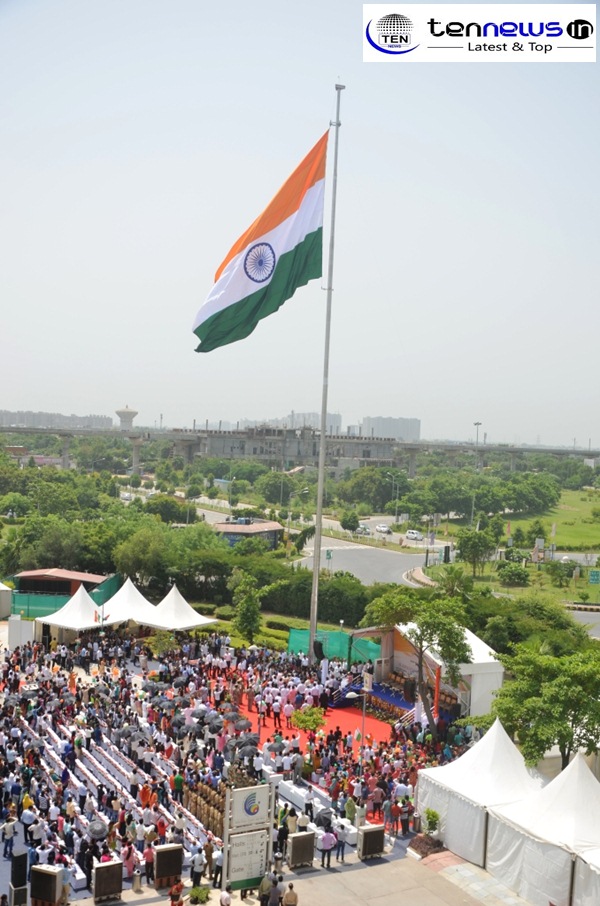 The massive flag can be seen while driving on the Noida-Greater Noida expressway and is visible from different colleges in the surrounding areas of Knowledge Park.
The flag at Expo Mart was inaugurated in 2017 by Gautam Buddh Nagar's Member of Parliament Dr. Mahesh Sharma and is the 3rd tallest flag in Delhi-NCR, just behind Connaught place (207 ft) and Faridabad's town park (250 ft).
On maintenance of the flag, Expo Mart's Chairman Rakesh Kumar told Hindustan Times, "We are maintaining it on regular basis. We have a hydraulic system in place, through which the flag is hoisted at that height. So, there is certainly no issues of maintenance or keeping it stable at that height."
"The expo mart hosts many national and international events throughout the year. And it is during most exhibitions and events that the flag is often the centre of attraction. Moreover, it shows our dedication and commitment towards the nation. It is certainly a matter of pride for us, and instills a feeling of patriotism," added Kumar.
India Expo Mart celebrated the 74th Independence Day today while following the social distancing norms.