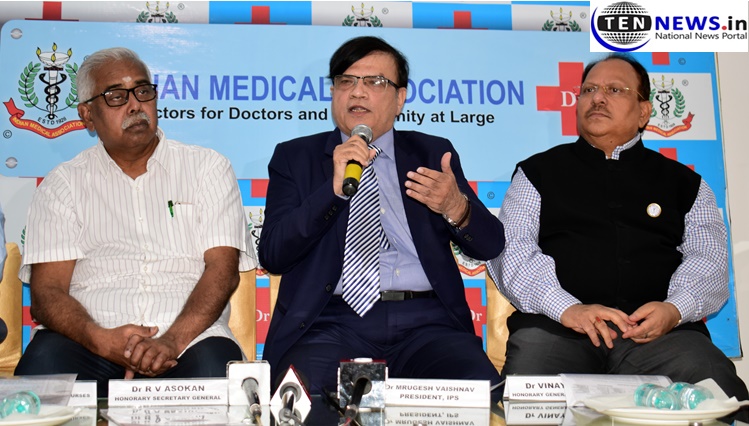 Indian Psychiatric Society and IMA condemns title and poster of 'Mental Hai Kya', Threatens to move court!
Vishal Malhotra (Photo/Video) By Lokesh Goswami Ten News Delhi :
New Delhi : Today, President of Indian Psychiatric Society Dr. Murgesh Vaishnav called upon a press conference at Indian Medical Association to raise a question over the concept of upcoming bollywood movie Mental Hai Kya.

"The title Mental Hai Kya is clearly derogatory to people fighting with their mental maladies. It is sarcastic and ridicules persons in pain. Studies reveal that almost entire world including India is facing mental health related stigma. Experts and activists are trying to tell people that nobody is so called 'mental' 'mad'. Having mental illness is neither a crime nor a curse. These are diseases which afflict people and are curable and in some cases manageable", said Indian Psychiatric Society's President Dr. Murgesh Vaishnav .
In the era of emphasis on human right it is unethical to call them mentally ill. The best term to describe the sufferers is PERSON WITH MENTAL ILLNESS. This term clearly communicates that mental illness is not a criterion to reject person as a whole. But the title of the film loudly ridicules persons with mental illness which is not only unethical and inhuman but also illegal, as according to Indian Medical Association and Indian Psychiatric Society.
Doctors present at the conference also stated, "The film makers may say that you are trying to obstruct our freedom of creative expression. We understand that creativity which utilities raw materials from unconscious mind needs no boundaries but it certainly needs editing by super ego to create a cultural artifact. Can we call a title creative which ridicules more than 10% of the population fighting with inner pain of illness along with external discrimination and neglect."