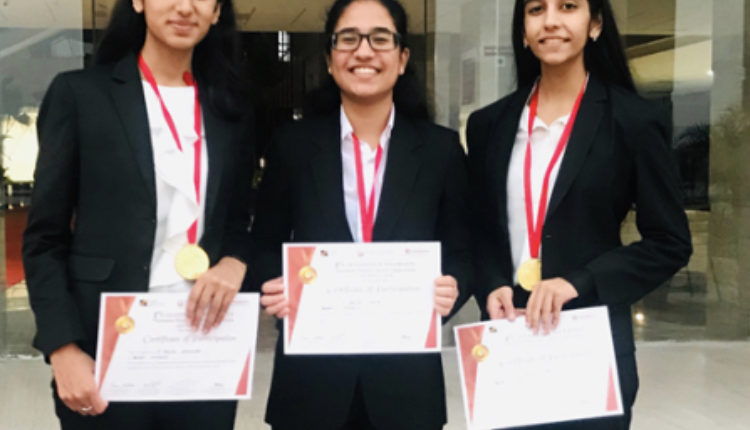 IT companies flock Galgotias University in placement season, students grab amazing job opportunities
Greater Noida : With placements underway in major IT colleges and universities of the country, Galgotias University is also witnessing back to back campus drives and job-pools with many national and international IT companies flocking to its campus to hire the future engineers for their organisations.
According to the Galgotias University's placement cell, many MNCs and Indian corporates have been recruiting hugely from its campus and this year Galgotias University students enjoyed record breaking 85*% round 1 placement (batch 2015) with Cognizant, Infosys, Wipro and Tech Mahindra.
The students of CS-IBM programs had 98% recruitment. Year after year, leading corporates like NIIT, Vodafone, Aditya Birla Group, BMW, Airtel, Citibank, HCL and others select Galgotias University students for their all-round skills and leadership qualities.
"At Galgotias we believe that our students greatly enhance the intellectual life of the University, hence we have taken the responsibility of developing and nurturing world-class professionals, by imbuing them with what we can Thinking quotient", says Chancellor Suneel Galgotia.
Even the professionals visiting the campus seem highly impressed by its offerings. Senior corporate professional Sandeep Ohri who was in Galgotias few days back, told Ten News, "Galgotia University has established itself as a quality education institution at Greater Noida and it gives opportunity to students from all over India. Campus is well maintained with ultra modern infrastructure giving perfect environment to students to grow. Placement division is doing great work and many companies are visiting for placement selection. Majority of students are getting good jobs with bright career ahead. Good feedback is received from the corporates about the quality of students and they are truly delivering values to all stakeholders in industry. The thing that I like the most about Galgotia is their syllabus formation and giving attention to emerging technologies areas (AI, machine learning, RPA, Cloud computing etc)which helps students. In fact their faculty selection process is robust and they see all such values in future faculty. Recently they came up with wonderful idea to involve industry expert in interview panel while going for faculty interview. It helps to evaluate keeping industry demand in mind and pick the right faculty for institute."
While talking to Ten News one previous years student Indranil Sanyal says , "I was in Galgotias University pursuing my B.Tech in Computer Science, in 2016 (i.e 4th year of course) companies like Infosys, Wipro, Cognizant etc. came to our university for on campus placements. I was recruited by Infosys, It was very joyous moment for me. I was excited for the new chapter of my life and about the Infosys training which I heard alot from my seniors. In 2017, Infosys called our batch for training in Mysore. Training in mysore was a wonderful experience, it educated us so many things technically and professionaly. After successful completion of my training i was relocated to Pune. Now I have been working in Infosys Pune . All this was possible due to my Alma Mater"
Galgotias University's young , dynamic and brilliant CEO Dhruv Galgotia has contributed in giving new direction and vision .He believes that India being a country with over 1.2 billion population has a lot of untapped potential which can be positively utilised with right education and grooming. "Galgotias Unviersity has the ability to extract the best from the best. We are committed to continually challenge what we do and raise the bar of excellence to be a distinctive premier institute", says Dhruv Galgotia.