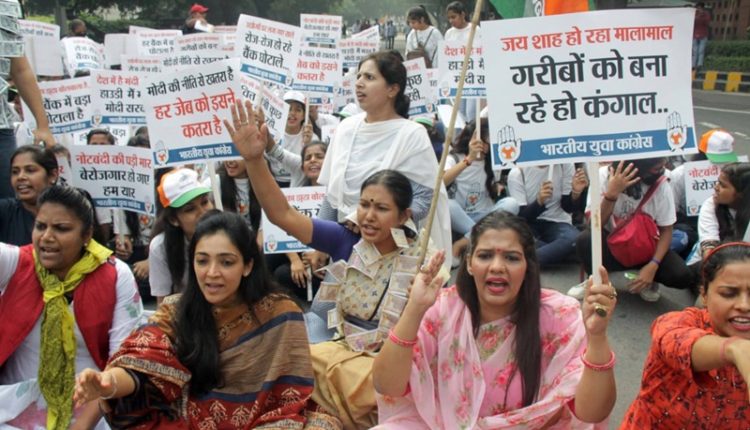 IYC Organised Protest March on the occasion of 3rd anniversary of Demonetization, outside RBI HQ
Vishal Malhotra (Photo-Video) Lokesh Goswami Tennews New Delhi :
New Delhi (08/11/2019) : Today, Indian Youth Congress organised a protest outside RBI Headquarters on the occasion of 3rd anniversary of Modi Government's 'Tughlaqi Farman' of Demonetisation.
The protest sought an apology from the Modi Government for ruining and wrecking the Indian economy. Demonetisation was a self inflicted wound on the Indian economy, which even three years later remains a mystery as to why the Country was pushed into such a disaster.
Youth Congress further protested against the indifferent attitude of Modi Government and RBI on the PMC bank scam which has brought about a trust deficit on India's banking system amongst people of the nation.
The protest was led by IYC President Srinivas B.V who stated that demonetisation led to disruptions in the economic and industrial activity of the Country. The lower domestic GDP growth in the past two years is largely on account of demonetisation which caused huge job loss and slowed down Indian economy. He further stated that the families of over 100 people who died because of demonetisation are still awaiting justice, but the present shameless government has even refused to mourn the death of those persons and refused to pay tribute to the deceased. It is a black day in the history of India's democracy and economy.
Youth Congress demands that PM Modi should come out and apologise to the nation and to all those who lost their life. He should apologise to all those who died for non availability of new currency notes and could not pay their hospital bills. He should apologise to those who faced daily hardship and lost valuable time in the process which never yielded the said result. We are still waiting for Prime Minister to address the nation, now that the RBI has come out with figures and that leaders from BJP have come out in open and said how bad the decision of demonetisation was, is Modi ji willing yet, to owe up to it and apologise?