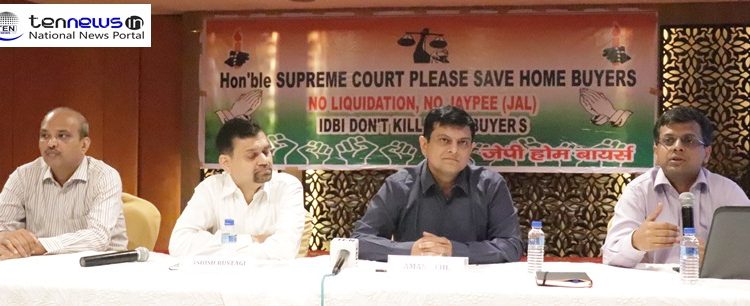 Jaypee Wishtown Homebuyers Demand "Roof Over Head", Allege Of Gross Irregularities By Jaypee Associates
ROHIT SHARMA / ASHISH KEDIA
NOIDA :–Jaypee Wishtown Home buyers today called for an important press conference and alleged diversion of funds from Jaypee Associates Limited to Jaypee Infratech Limited.
They claimed that they have entirely lost faith in intent or capacity of Jaypee Associates Limited to work upon or complete the projects hence they believe that an independent body must be given the responsibility of completing this project and ensuring delivery of flats to all the homebuyers.
The Press Conference was called by the consortium of 9 homebuyers association which claimed to be the representative of over five thousand homebuyers from different projects of Jaypee Wishtown.
The spokespersons of the association explained as to why it is significant for JAL to be cordoned off from active any role in the development of Wishtown as the company lacks intent and will to develop and deliver the project.
The consortium also gave there genuine concerns against liquidation of JAL and claimed that still Jaypee has land pockets worth around 15K crore and that should be put to use to take care of bank debts.
Speaking at the briefing an aggrieved buyer Ashish Rustogi said, "Homebuyers have paid around 90% of flat money. Jaypee got land for construction of Wishtown at very very low rates, the construction cost has already been paid by buyers so despite that if JAL is not constructing project, it only shows their lack of intent. We haven't paid our hard earned to Jaypee for investing in Expressway or constructing hospitals for profit, we have paid for flat and that is the only thing we demand. Roof over our head is our right after we have lawfuly paid for it and we demand nothing less".
They also alleged that cost for construction of Yamuna Expressway was hiked by INR 4,384 Crores as compared to relevant benchmarks for other Expressway's of similar nature. They said that per kilometre construction cost of Bombay – Pune Expressway is way less than Yamuna Expressway and there seems to be gross anomalies between the two, we demand that it should also be investigated along with diversion of funds.