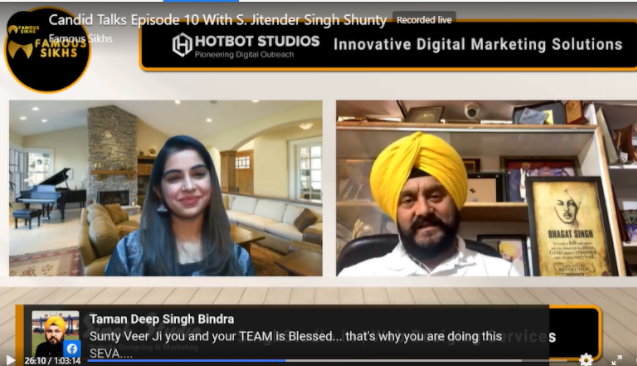 Jitender Singh Shunty inspires millions of people in Episode 10 of The Candid Talk Show by Famous Sikhs
New Delhi, November 05, 2020: In the recent episode of Candid talks by the 'Famous Sikhs' that aired on 1st Nov 2020, starring the Former MLA, Delhi Jitender Singh Shunty and the Founder of Shaheed Bhagat Singh Sewa Dal. The NGO works on the principle foundation wherein they believe the last journey of human being also deserves dignity and this is what inspired Jitender Singh Shunty to begin with this journey of serving people. Also, the man is known as the first Sikh and the first politician who has donated blood over 100 times and the same has been documented as the World Record. He was felicitated with a name Donor Singh by Delhi State Blood Transfusion Council.
 On the Candid Talkshow by Famous Sikhs, when host Manpreet Kaur asked him about how the NGO came into existence. Jitender Singh Shunty walk her through his journey and mentioned the journey started 25 years ago when he witnessed a father collecting wood sticks to shroud his son's dead body that had really hit him hard which led to the birth of the NGO Shaheed Bhagat Singh Sewa Dal (SBSSD) in 1996, and since then they have cremated thousands of unclaimed dead bodies to date free of cost.
 The man along with his team created history by cremating more than 500 bodies and ferried over 640 patients from isolation centres to their homes and vice-versa since March 21st. Besides ferrying the vans and ambulances, SBSSD has also been providing food, masks, and ration for free.
Shunty and his family were also tested positive some months back but he recovered and continued engaging their services to the people in need. He was overwhelmed amid the show when he said, how everyone right from the common people to celebrities from India and all over the world prayed and encouraged him to recover from this illness and come back to the ground.
In this testing times when even the relatives of COVID19 victims are stepping back from cremating their loved one, a social worker like Jitender Singh Shunty has come forward to help others by risking their own lives. His act of kindness and helping attitude symbolizes the philosophy of share and care. And people like him inspire millions and deserve a salute for the selfless services carried out during this pandemic.
 Jitender shared a very important message of taking the COVID 19 pandemic seriously and following all the protocols. He even urged the youth to take care of older family members and take them to the hospital if symptoms persist. He added when you are quarantined then a phone call also counts. Hence, it's important to be supportive and sensitive to the affected ones. Even he encouraged and asked the youth to join his organization and be a part of this amazing journey. The show was ended on a high note when he sang a song based on legendary Bhagat Singh's life and the comment section was flooded with appreciation. 
The candid talk show Famous Sikhs team invites one guest each week, and this week the interview focused on the inspiring journey of Jitender Singh Shunty and his organization.