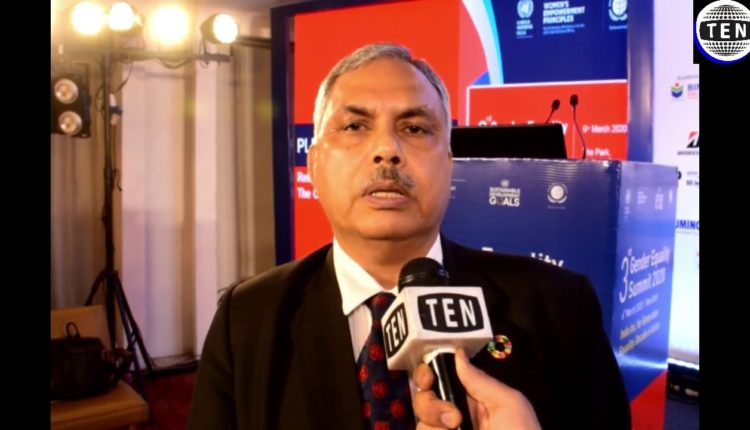 Kamal Singh, a seasoned management professional responsible for heading India closer towards SDG goals, passes away at 60; Colleagues and fellow professionals react
Kamal Singh, the man responsible for heading India closer towards SDG goals, in his role as CEO and Executive Director of United Nations Global Compact Network India (UN GCNI), passed away today. He was admitted to JP Hospital, Noida on October 19, 2020 for breathlessness. He was on ventilator and was given oxygen constantly but he could not survive. He was 60.
Read the obituary on Kamal Singh by Pooran Pandey
Kamal was a seasoned management professional who began his career at the All India Management Association. He spent nearly 3 decades at AIMA, being instrumental in launching many initiatives that brought laurels to AIMA in building its profile and equity with its stakeholders.
He then moved on to the National HRD Network where he contributed in rejuvenating financial health of NHRDN and also introduced several new initiatives, he strengthened value propositions to its membership more than before.
In his latest 3 years tenure at GCNI, he initiated several path breaking initiatives in its basket of activities, therefore winning huge accolade from UNGC, New York & its other stakeholders.
Kamal was also on the Board/Sub-Committees of several organizations/institutions including Bureau Indian Standards (BIS); Foundation for Organisational Research & Education ( FORE); IFIM, Bengaluru; Indian Institute of Finance (IIF); RKDF University, Bhopal; BIMTECH, Greater Noida; Manav Rachna International University; GBIMR; International Federation of Training and Development Organisations (IFTDO); Jaipuria Institute of Management (JIMS) Jaipur; and Independent Director on the board of Parsvnath Developers Ltd.
He was a winner of several accolades and awards, he contributed beyond business towards building Social Capital Index of India and the world.
Today, as soon as the the unfortunate news of his death broke out, Kamal's colleagues and fellow professionals rushed to social media in huge numbers to pay last tributes to him.
BIMTECH's Director Dr. H. Chaturvedi wrote, "Our friend, fellow traveler and a very good human being, Kamal Singh ji, Director General, UN Global Compact and former DG, NHRDN is no more. For his friends and well wishers , spread across the country particularly in the HR fraternity, this news has come as a rude shock to all of them. When early morning I got the news, I cried as if I lost my younger brother. He has left a family which was in dire need of his patronage and guidance. Praying to the Almighty to give solace to them and courage to bear this great loss. He was a noble soul who left this world very untimely."
"It's really shocking to learn that our very close friend Sh. Kamal Singh is no more. He was a very dear friend for over a decade and very humble, jovial and a person with lots of energy. Words are not enough to express the grief and sorrow we are surrounded with. À great loss to the family and all management fraternity. A person who always believed in taking together everyone around him. Our deepest condolences for the family and prayers for the departed noble soul," said Jayant Shah, ED, Academy of Indian Marketing.
"I've lost a very dear friend to Covid. Deeply saddened and shocked by his sudden demise. Last we met in person was in Feb 2020 in Mumbai. Kamal, was a great human being loved by all. He made a lasting impact on so many institutions (NHRDN, AIMA, Global Compact) where he served the needs of the wider community and touched so many lives. He will always remain in our hearts and prayers. May his soul rest in peace. Om Shanti," said Nishchae Suri, President – Asia Pacific, Middle East, Africa at EdCast.
"Very sad news, dear Kamal Singh ji has passed away of COVID. I knew him since his days with AIMA as a Director. He later moved to NHRDN as the Director-General before moving to United Nations Global Compact Network (UNGC) as the Executive Director. Sharing an old picture with him from 2012 when he was present as Chief Guest in one seminar. A very humble and helpful person. May his soul rest in peace. Om Shanti," wrote Vikas Singh, ED at ITS Engineering College, Greater Noida.
"Today India lost a renowned Management Professional. It is my personal and irreparable loss. A great pillar of management profession has fallen. He will remain in our hearts forever," said Dhananjay Singh, Director General, NHRDN.
"Saddened and shocked to hear about the demise of Shri Kamal Singh, ED, UN Global Compact Network. He was the man on the mission and a very inspiring personality. We at ASMA had several opportunities to collaborate and interact with him on various occasions. It's a big loss to the indian fraternity. ASMA team prays for his soul to rest in peace," said Rahul Jain, Project Director at ASMA.