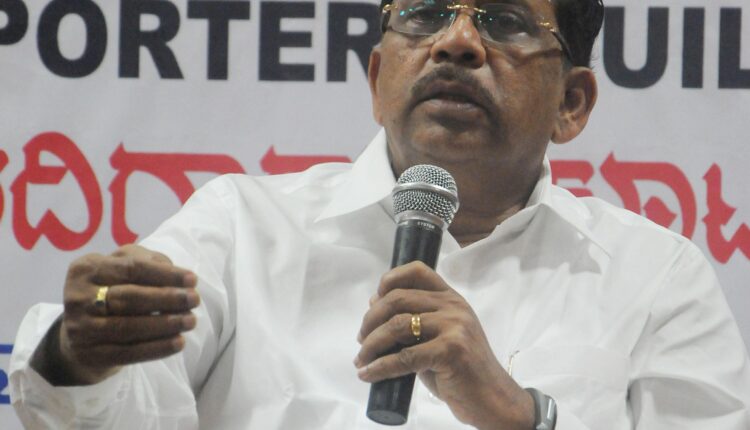 K'taka bandh: Only protest allowed, legal action if bandh is forced, says Home Min Parameshwara

Bengaluru, Sep 28 (IANS) Karnataka Home Minister Dr G. Parameshwara Thursday said only protest is allowed on September 29.
If anyone tries to force people to observe bandh, legal action will be initiated.
Kannada organisations have given a Karnataka bandh call opposing release of the Cauvery water to Tamil Nadu.
Speaking to reporters, Parameshwara stated, "I am warning the organisations which have given a call for bandh. The bandh can't be observed as directed by the court. Legal action will be initiated against those who defy it," he added.
Only protest can be observed. The bandh will not be allowed. The police need not be given special instructions, they know what to do, he added.
Due to the Bengaluru bandh observed on September 26, there is an approximate loss of Rs 1,500 to Rs 2,000 crore.
Amid this, if bandh is observed for one more time it will further make the situation critical in terms of economy. The organisations should know this. It is everyone's right to stage a protest, let them carry out protests. But, if bandh is tried to be imposed, legal action will be initiated, Parameshwara warned.
The protest staged within the legal framework would be allowed. There is no compromise with the Tamil Nadu government.
The politics should not be carried out on Cauvery issue. The BJP and JD (S) have joined hands recently. There is no use in blaming the government, he stated.
The opposition should give cooperation to the government, he added.
Meanwhile, Alok Mohan, the DGP and IG of Karnataka state warned that there should be no imposition of forceful bandh on Friday.
The directions have been given to take action if the public are troubled. All SPs and DCPs are given directions. If protestors try to shut down shops, action will be taken, he explained.
–IANS
mka/shb