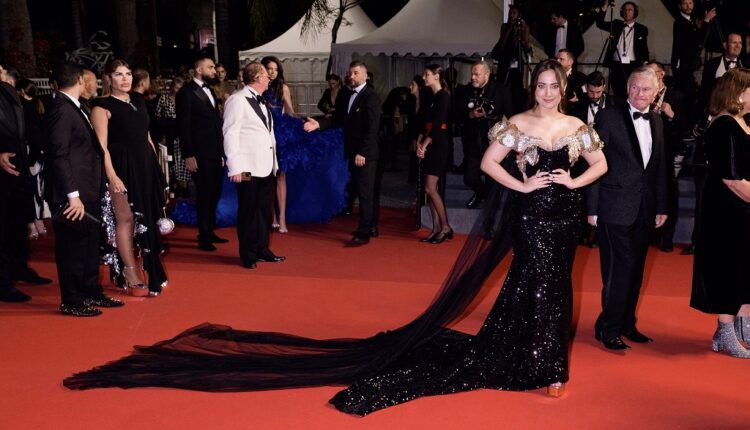 KUSHA KAPILA MAKES A SPECTACULAR RED CARPET DEBUT AT CANNES, DAZZLES IN A RAHUL MISHRA CREATION

23rd May 2023, Delhi- The prestigious Cannes film festival was set ablaze  as popular Social Media Influencer and Content Creator Kusha Kapila graced the red carpet for the very first time. Stepping into the limelight with grace and poise, Kapila stunned onlookers in a breathtaking ensemble designed by the renowned fashion maestro Rahul Mishra. Her red carpet debut at the esteemed Cannes Film Festival marked a significant milestone in her burgeoning career, showcasing her versatility and flair for fashion.
For her grand entrance, Kusha Kapila donned a resplendent hand-embroidered gown, meticulously crafted from opulent fabrics and adorned with delicate floral motifs.Cinched at the waist, the gown falls into a mermaid silhouette at the bottom, complemented with a long sheer tulle cape. The exquisite detailing and artistry showcased Mishra's unparalleled mastery, creating a mesmerizing piece that transcended time and fashion norms.
Speaking on the occasion Kusha Kapila Adds "I am beyond thrilled to have made my red carpet-debut at the prestigious Cannes Film Festival.  I'm truly grateful for the opportunity to collaborate with the brilliant Rahul Mishra. His designs captured my vision perfectly, combining elegance and modernity in a way that truly reflects my personal style. I also want to express my gratitude to Fetch agency for their unwavering support and guidance throughout my journey. This experience has been nothing short of extraordinary"
Ayesha Amin Nigam, Stylist for the look adds "We wanted to keep it very classic for her first red carpet at Cannes yet impactful. The two trails bring the necessary drama to the carpet. It was so special to work with renowned haute couture   Indian designer Rahul Mishra on ensemble as he is the perfect confluence of India and France! The look we finalized on is a take on a classic black ensemble which embodied the old world glamor which is so key to Cannes whilst modernizing it for today's world with its interesting take on detailing with the structural embroidery that embraces her neckline, adding the perfect amount of oomph, and framing her so beautifully."
Pankhuri Harikrishnan, Founder Fetch Consulting Adds " I am immensely proud of Kusha Kapila's carpet debut at the prestigious Cannes Film Festival. Watching her grace the event with elegance and confidence has been a truly surreal experience. We at Fetch Agency are dedicated to nurturing talent and providing unique opportunities for our clients, and Kusha's journey is a testament to our commitment. This milestone reinforces our belief in the power of talent and collaboration, and we are eager to see what the future holds for both Kusha and Fetch. "