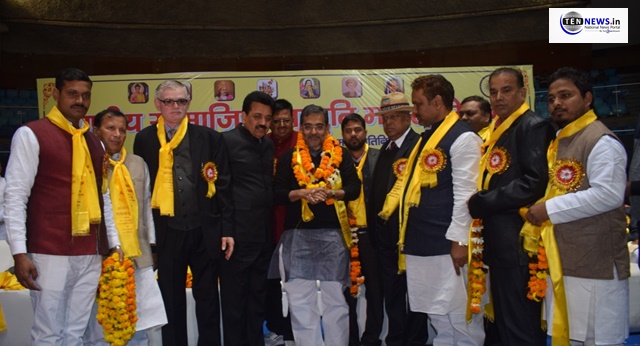 New Delhi(06/01/2019) : Kushwaha, Shakya, Maury, Saini and Mali representative organisation today (January 6) organised, "Rashritya Samjik Jagriti Sammelan" in New Delhi at Talkatora Stadium.
The event was coveyed by Dr. Shakti Kumar Shola, national president, Akhil Bhartiya Yuva Kushwaha Mahasabha and the chief guest was former central minister, Upendra Kumar Kushwaha while Dr. Motilal Kushwah (golf guru), president, Akhil Bhartiya Kushwaha Mahasabha was the host of the session.
The prime aim of the event is to awaken
Kushwaha, Shakya, Maury, Saini and Mali sections of the society towards the burning issues of the modern era.
The purpose of the event is to establish the political and social identity of these weaker segments of the society. Other than that, major issues including Child marriage, dowry, occult practices, girl education were discussed while the long day event.
Thoughts of great legends like Gautam Buddha, Ashoka The Great, Chandragupta Maurya, Mahatma Gandhi, Jyotibhai Phule, Shaheed Jagdev Prasad were communicated to the audience.