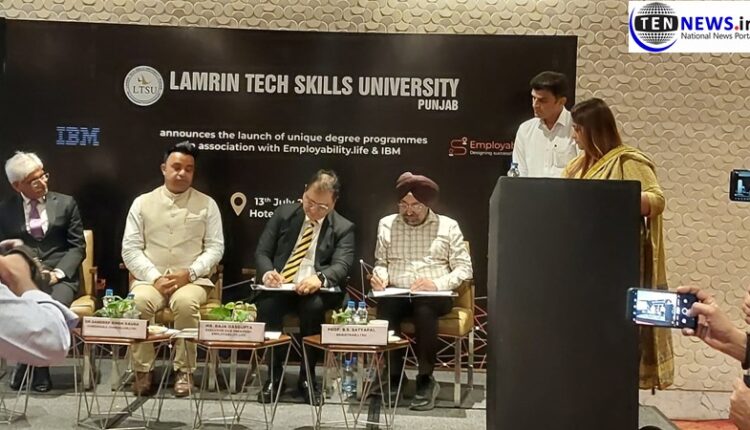 New Delhi (14th July 2023): Lamarin Tech Skills University, Punjab launches futuristic skills oriented programs in collaboration with global tech companies. University offers specialist courses to make students industry ready.
Along with the campus spread over 100 acres, education loan and hostel facilities are also available for the students.
LTSU , IBM and Employability. Life together launched a course and organized a press conference. The press Conference was be jointly adressed by Dr. Sandeep Singh Kaura, LTSU Chancellor, Raja Dasgupta,Executive Vice President Employability , Sanjeev Mehta Advisor and head program development IBM.
While addressing the press conference Dr. Sandeep Singh Kaura said that, Today we are looking in country need those programme where students who are part of that program their entire family is expecting he/she should able to get a nice or a decent employment or he should be able to a job creator. These are the motives for which the program should be launched.
In July 2023 we are launching B.Tech mechanical program because we are ready now. In collaboration with the Government of India, we are bringing more courses where students can get good experience through short term programs.Such children can come in this program who have merit but do not have funds, they must apply for these courses.
Raja dasgupta said that ,"I believe that in  India we would be one of the pioneers who will introducing the coperation model where we will be driven the industry aspect where university will work codified, create curriculum and post certifying along with the industry and that's how we are bridging the Hap between industry and academia ."
Sanjeev Mehta said that, " I have travelled in many countries we have many collaboration but I have never seen any University which is so passionate and committed to make sure the student are the career Ambit this is something which is very interesting" He added that there are limited 600 seats and 350 students have already taken admission, there are only 250 seats are left. We want the most deserving students to take benefit of this. Today our cut off is more than 70% -75% for students that is the quality of students we are getting and each of them without exception are from the most humble background from all over the country that is the magic you did.
Lamarin tech skills University Punjab is the first university established in India like IBM as anchor partner, Tata technology and NCIS as industry partner.