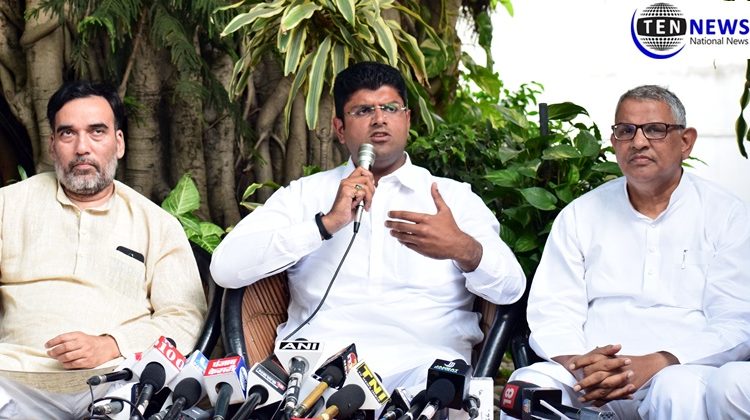 Lok Sabha Elections 2019: After snubbing congress, AAP-JJP announces candidates for Haryana
Vishal Malhotra (Photo/Video) By Lokesh Goswami Ten News Delhi :
New Delhi : AAP after numerous efforts of requesting Congress for aligning has now joined hands with Jannayak Janta Party (JJP) for upcoming Haryana elections.
Today at a press conference JJP leader Dushyant Chautala along with AAP's Gopal Rai revealed their alliance for upcoming Haryana elections.
"Out of the 7 seats in Haryana Lok Sabha polls, Aam Aadmi Party will be fielding from 3 Lok Sabha seats that are Faridabad, Karnal and Ambala", conveyed JJP President Dushyant Chautala.
Speaking about the expectations of winning, AAP leader Gopal Rai said, "Our main aim is to defeat Modi Sarkar as that party is just ruining the expectations of public and the image of a party meant to work for nation. We hope to see good future with Jannayak Janta Party."
Speaking about alliance with Congress, Gopal added, "We have tried to convince Congress for their support and also proposed various proposals but I think Congress is all set to lose with heavy number of votes in these elections."