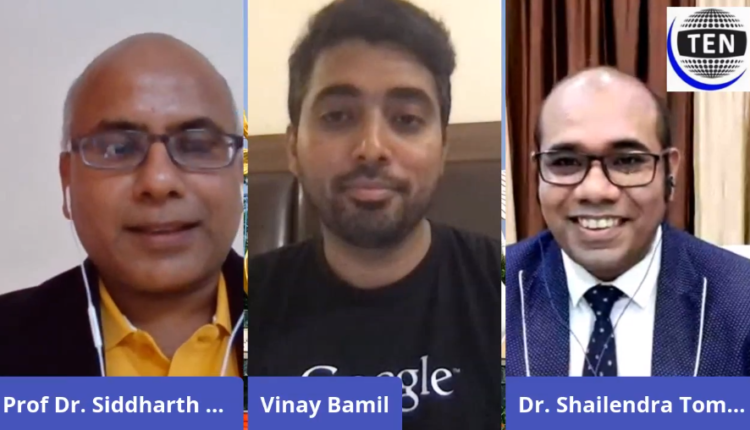 Lot of Scope for improvement in Vande Bharat Mission, says Indian expat in U.S
Greater Noida, 13th June: On Sunday, Dr. Siddharth Gupta, senior advisor at Anti Corona Task Force and consulting editor at Ten News hosted a live talk session with Vinay Bamil, senior engineer, Google Cloud, Google and Dr. Shailendra Tomar, member, Anti Corona Task Force.
When asked about his experience with Vande Bharat Mission, Vinay Bamil said that he is thankful to Indian government and Air India for evacuating him from the United States.
He however said that there is a lot of scope for improvement in the mission for instance the expats have to wait for a long time at the airport after returning to India which increases the chances of spreading of virus. "Government should allow people to leave as soon as possible".
"Also people have to provide the information at multiple points, government should inter-connect the checkpoints, so as to streamline the system," said Bamil.
He also suggested the expats to carry their own food and blankets because minimal services are provided in the evacuation flight so as to maintain the social distancing.
On the impact of Covid-19 on IT industry, Bamil said that the industry quickly adapted to the change because it is digitally connected, the employees were able to shift to work from home in no time.
Companies in segments like digital conferencing and online streaming has gained exponentially during the Covid-19 time.
However the IT companies providing their services to Hospitality, travel, auto industry has been on a losing side.
Dr. Tomar, while addressing the question of Dr. Gupta on impact of IT sector on healthcare system, said that the IT has given a strong backbone to the medical system.
"Trends like telemedicines, robotic surgery, navigation surgery, where a surgeon sitting in US can perform surgery in India, will help improve the healthcare system."
Ten News Live Talk | Mr. Vinay Bamil |Senior Engineer, Google Cloud at Google Mountain View, Google, United States of America

TEN NEWS LIVE Interaction with Mr. Vinay Bamil Ten News Live Talk with Mr. Vinay Bamil Senior Engineer, Google Cloud at Google Mountain View,Google, United States of America *Sunday, 12th July, 2020 @ 9:00 am to 9:30 pm. Moderator – Dr Siddharth Gupta, Consulting Editor, Ten News Network and Senior Health Care Advisor at Anti Corona Task Force

Posted by tennews.in on Sunday, July 12, 2020