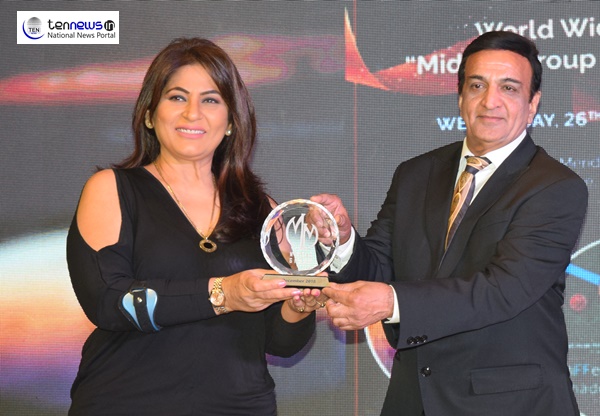 Madhur Bhandarkar, Archana Puran Singh Launches 'TALENT HUNT' by Midaas Group in Delhi!
Prerit Chauhan / Jitender Pal
New Delhi: The national award winning director Madhur Bhandarkar, Actress & Television Sensation Archana Puran Singh, Music director Shravan Kumar witnessed in Nation's Capital for the special grand launch of Talent Hunt presented by Midaas Group in Entertainment.
The grand event took place at Hotel Le Meridien, New Delhi with graceful presence of Inderpreet Singh, the president of Midaas Group Pvt.Ltd.
Speaking on the occasion, Ace Director Madhur Bhandarkar said,
"I'm really honored to be here at the launch. Talent hunt by Midaas Group is great platform for upcoming talent. Their is so much talent in India its just they need a platform like this."
Laughter Queen, Archana Puran Singh, Talking about the Web Series as a threat to Bollywood said,
"No i dont think web serious are a threat to Bollywood. Watching a movie in theatre has its own charm. It's just web series are pushing the Bollywood to focus more on content which is a very good thing."
Exclusively Speaking to Ten News, Music Director Shravan Kumar, Said,
"Definitely it wil be great platform for everyone. Youngsters specially can take advantage of this platform. There is no shortage of talent in India. In so many big movies we see so many young talent coming up. And the new actors are actually makin a impact. So the time has when the youngsters should be provided with a platform like this."
Midaas is a Canada based Production house, spreading its ventures all over the Nation, so the startup took place in Delhi itself. Along with the launch, the team of Midaas along with Madhur Bhandarkar, Archana & Shravan interacted with media and shared their views for the same.And the crowd also witnessed the screening of five highly recommended movies like World war 3, Na Kaahu se dosti na Kaahu se bair, Shaane Singh, Raktaanjali & Bombays 70s.