New Delhi: With the help of Indian Air Force helicopter, the city fire department succeeded to douse the fire which had broken out in a rubber factory of Malviya Nagar at around 5 pm yesterday. Air Force's MI 17 helicopter was deployed to douse the fire.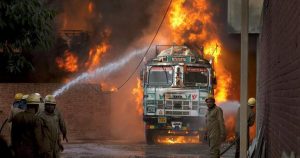 Indian Air Force helicopter sprung into action to douse the flame which was blazing even after 12 hours.
"Have launched a Mi 17 helicopter for Bambi operations from Palam to try and contain the fire at Malviya Nagar godown in Delhi," the Indian Air Force said on Wednesday morning.
A massive fire had broken out in a rubber factory in Malviya Nagar at around 5 pm on Tuesday. Firefighting operations were underway and are likely to continue for a few more hours. "Fire is under control now. 15 fire tenders are currently at the spot. It will take 1-2 more hours to completely douse the fire," a fire officer said.
Several vehicles were gutted in the fire that broke out at an auto pond of the police in the area on Tuesday evening. Several shops in the locality have also come into the contact with the devastating fire.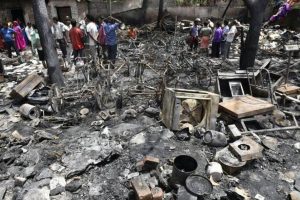 The massive fire has given a strong weapon to the opposition parties to corner the Delhi government. Delhi BJP levied allegations on AAP for this massive fire by saying that the safety measures were undermined by the Delhi government which led to the massive fire. However, AAP refuted this allegation by saying that several complaints have been written by the AAP leaders to the authorities regarding safety and security measure and the factories running illegally in that area but no action has been taken by the BJP-ruled municipal corporation.
The incident
A call regarding the fire was received at Saket police station at 5.16 PM. "On reaching the spot it was found that the fire broke out at an auto pond in Sector 5 of Pushp Vihar," DCP (south) Romil Baaniya said. The auto pond houses case property of the police's south district. "It was found that many vehicles have caught fire," he said.
No casualties have been reported, however, numerous vehicles were gutted in the fire, said the officer.
Police said that it was found that a truck was being loaded with rubber sheets at the warehouse situated at Khirki Extension area when the vehicle suddenly caught fire and it later also spread to the building, where more rubber sheets were stored.