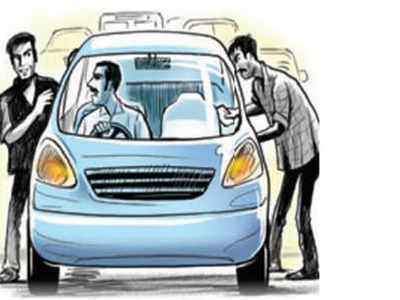 Man looted of cash & ATM near Jaypee Resort after boarding a cab from City Park
Saurabh Kumar
Greater Noida (24/02/2019) : Criminals in Greater Noida seems to have lost all the fear of Noida Police amongst them. On 21st February, in a shocking incident in the middle of the day, a man was looted after he took a cab from near City Park.

As per the information the victim is identified as Ranjan Chatterjee, the resident of Alpha 2 and also EC member of Greater Noida Kalibari.
On 21st February he took a cab from City Park to reach the office, but the cab driver instead of going towards Alpha commercial belt, turn the cab towards Jay Pee Resort and started assaulting him. Later on, the criminals blindfolded him after overpowering him and robbed his ATM card, Mobile phone, Rs 6,500 cash and a gold ring.
The victim himself narrated that "as I felt suspicious after boarding the cab I asked the driver to drop right there. Meanwhile, his accomplice sitting beside me overpowered me and robbed my cash and valuables. They asked for my ATM pin and said if they won't be able to generate cash then I have to survive the consequence."
"Thereafter debating 40 thousand from my account, they dumped me somewhere near Tilaptta Chowk. Apart from this in FIR instead of mentioning about loot police mentioned that I lost my valuables " He narrated.
Ajay Kumar, SHO Kasna Police station, said "he is not aware of the incident but if the complaint is registered by victim, then an action will be taken and the criminals will be caught soon".