Manju Sharma- The Cancer Warrior who is an Inspiration to one and all
By Bipin Sharma
Manju Sharma is a noted educationist who has dedicated close to four decades to the teaching profession.
A never say never die Crusader who has always believed in the morals of "Simple Living High Thinking", she was diagnosed with cancer in the year 2022.
A true fighter that she has been all her life, the news of malignancy was shattering, but it no way deterred her from playing her pivotal role in the Mission of "Nation Building" through educating the young minds.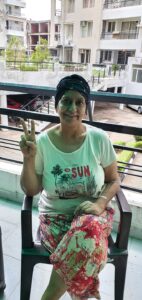 A firm believer of Holistic Education, she has incessantly been a "Role Model" for not just her students, but also for her friends and relations who take inspiration from her everyday.
Today after having undergone 8 chemos and 26 radiations, Manju Sharma has managed to hand a crushing defeat to Cancer.
She prefers to be hailed a "Cancer Warrior" and not a "Cancer Survivor".
Cancer may have impacted her physically, but in spirits she remains truly "indomitable".
Kudos to this unsung Hero and Warrior who has been inspiring one and all in the society with her zest and positive attitude.