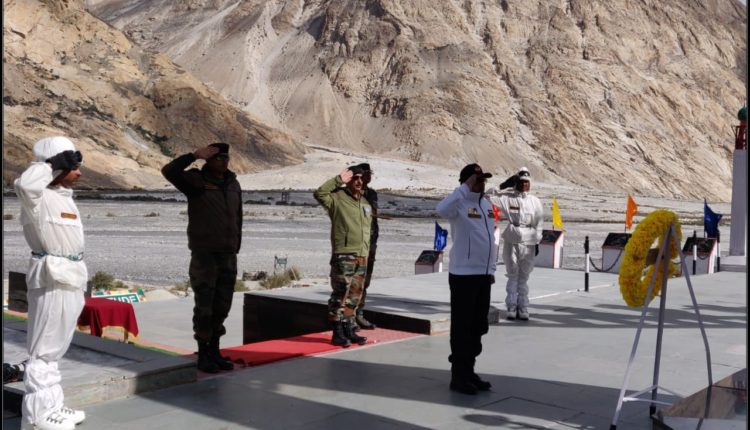 Martyr Capt Shashikant Sharma's brother Dr Naresh Sharma went to Siachen Galcier for wreath laying ceremony
Saurabh Kumar
NOIDA (30/09/19) Dr Naresh Sharma brother of Martyr Capt Sashikant Sharma recently returned from Siachen glacier after attending wearth laying ceremony of his brother. He had got special permission from the Army Chief General Bipin Rawat and the arrangements were made by Indian Army.
Dr Naresh used to visit the Siachen war Memorial every year to pay homage to his brother. This year chose the month of September so that he can feel the difficulty of terain and in what conditions his brother laid his life for the country.
During Oct 1998, Capt Shashikant Sharma was deployed on the Saltoro ridge located about 20 Kms south west of Siachen glacier. On the night of 3rd October 1998, there was heavy shelling from Pakistani side on the Bana post at the snowy heights of over 21000 ft.
Capt Shashikant Sharma on that day was the commander of the Bana post, a very crucial post for India. Capt Shashikant Sharma along with his gritty soldiers launched the counter attack to give a befitting reply to the unprovoked firing from the enemy. However during this process, Capt Shashikant got wounded grievously in his right thigh and abdomen.
Despite his injuries Capt Shashikant Sharma continued to direct the fire and guard his post. On the early morning of 5th October, however Capt Shashikant Sharma was shot in the forehead and was severely injured. He later succumbed to his injuries and was martyred. Capt Shashikant Sharma was given the gallantry award, "Sena Medal" for his valour, devotion to duty and supreme sacrifice.
Capt Shashikant Sharma is survived by his parents and brothers.