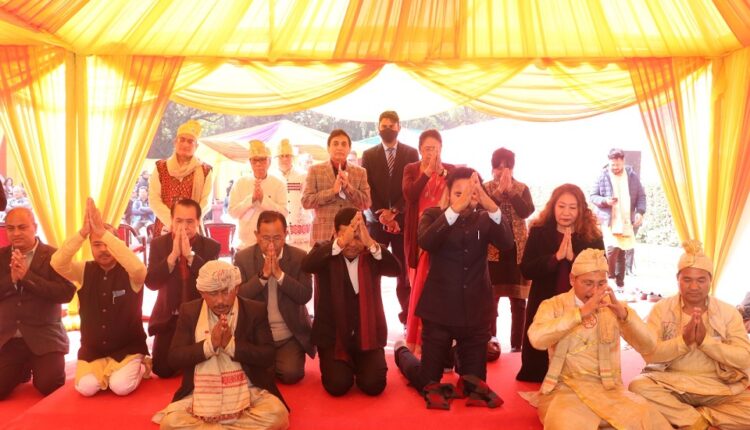 ​'Me-Dam-Me-Phi' celebrated with pomp
New Delhi, 28 January, 2023: The Union Minister of Ports, Shipping & Waterways and Ayush, Sarbananda Sonowal hosted the  pious event of Me-Dam-Me-Phi at his official residence in Delhi today. The ceremony witnessed enthusiastic participation by hundreds of people from the Assamese society residing in the Delhi NCR region, among others. Among dignitaries, Union Minister of Tourism, Culture & DONER, G Kishan Reddy; Union Minister of State for Petroleum, Rameshwar Teli; Union Minister of State for Women & Child Development and Ayush, Dr Mahendrabhai Munjpara; Union Minister of State for Tourism & Ports, Shipping & Waterways, Shripad Yesso Naik; Union Minister of State for Ports, Shipping & Waterways, Shantanu Thakur among with Members of Parliament from Northeast attended the event. The event was also attended by His Excellency the Ambassador of Thailand, Pattarat Hongtong as well as His Excellency the Deputy Ambassador of the Lao People's Democratic Republic (PDR), Keo Sendavong. Padmashri Awardee Prof Jogendra Nath Phukan, a leading light in Tai and South East Asian studies including the history & culture of Assam, also attended.

Speaking on the occasion, the Union Minister, Sarbananda Sonowal said, "Today marks the pious occasion when we pay our respect to our ancestors as we thank for the rich heritage that they left behind for us to seek wisdom and guidance as we move ahead in life. Our rich heritage, our history, our culture is our greatest teacher as we seek blessings to bring to life the vision of PM Shri Narendra Modi ji to build a new India. In order to achieve the ultimate goal of Ek Bharat, Shresth Bharat set by Modi ji, we must look for knowledge and teachings that our forefathers have left behind. It is a wonderful occasion when we have all gathered here to celebrate this wonderful  festival of Tai Ahom community for the peace and prosperity of the humanity. I extend my sincere gratitude to all of you who came to join this prayer today. I also take this opportunity to express my gratitude to all of you, including everyone in Assam where it is celebrated widely by people from all communities."
Among the other notable attendees, Members of Parliament from the Northeast; Queen Oja, Pabitra Margherita, Pradan Baruah, Ajit Bhuyan, Tapan Kumar Gogoi, Dilip Saikia, Bhubaneswar Kalita, Tapir Gao, Birendra Prasad Baishya, Kamakhya Tasa, Kripanath Mallah, Horen Singh Bey, Naba Kumar Sarania and many others attended.
Me-Dam-Me-Phi festival is celebrated by the Tai Ahom community to worship and pay respect to the ancestors seeking their divinity with the god. The meaning of 'Me' means offerings, 'Dam' means ancestors and 'Phi' means God. Those, who attended the event today, also prayed for the peace and prosperity of the humanity. The festival is being celebrated every year on January 31 across Assam.