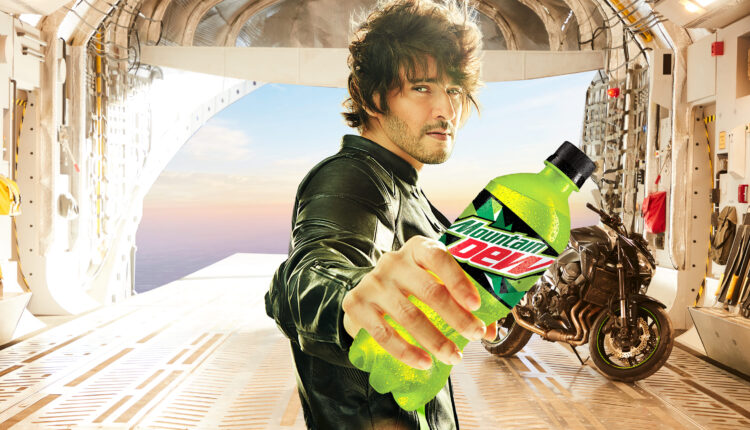 MOUNTAIN DEW® REITERATES ITS 'DARR KE AAGE JEET HAI' PHILOSOPHY WITH MAHESH BABU
National, 24th February 2022:  With an aim to encourage consumers to overcome all challenges head-on, Mountain Dew®, today, unveiled its enthralling summer campaign featuring superstar and brand ambassador Mahesh Babu. The gripping film is an embodiment of Mountain Dew®'s philosophy of 'Darr Ke Aage Jeet Hai' which is sure to leave consumers on the edge-of-their seats. With high-octane stunts and an inspiring storyline, the new TVC will take forward Mountain Dew®'s motto of emerging victorious in life despite of the challenge ahead.

The film portrays superstar Mahesh Babu gearing up to go live on television to perform a never-seen-before freefall stunt from a cargo plane. Looking at the high-altitude, the crew is sceptical if he will be able to successfully finish the challenge. The film sheds light on how everyone has their own set of fears, but it is their approach of tackling them with courage that truly sets the winners apart. In line with this philosophy, with determination to conclude the stunt, Mahesh Babu takes a sip of Mountain Dew® and goes for it. The film ends on an encouraging note as Mahesh Babu takes off with his motorcycle and lands Victorious onto the other cargo plane in-spite of the challenges faced in-between.
Speaking on the campaign, Vineet Sharma, Category Director, Mountain Dew, PepsiCo India said, "We are delighted to continue our association with Mahesh Babu as we unveil our new summer campaign for Mountain Dew, strengthening the brand's 'Darr Ke Aage Jeet Hai' philosophy. The film celebrates and encourages everyone in the pursuit of overcoming their fears and emerging as winners. We are hopeful that the campaign will be loved by consumers and Mahesh Babu's diverse and vast fan-base across the country, leaving them feeling empowered and wanting a taste of Mountain Dew."
Commenting on the film, brand ambassador Mahesh Babu, said, "Courage over fear, the thrill of the unknown – Mountain Dew's persona has always resonated with me. Excited to be back with the team for this action-packed film that's high on both action and adventure!"
Sainath Saraban, Creative Head and Co-Founder of Studio Simple said, "The common goal was to create a campaign that is jaw-dropping without losing the essence of vulnerability that one experiences right before emerging victorious. You will experience high octane drama in it while it remains human and relatable at the core."
The new Mountain Dew® campaign and TVC will be amplified across TV, digital, outdoor, and social media with a 360-degree campaign. Mountain Dew® is available in single/multi serve packs across modern and traditional retail outlets as well as on leading e-commerce platforms.