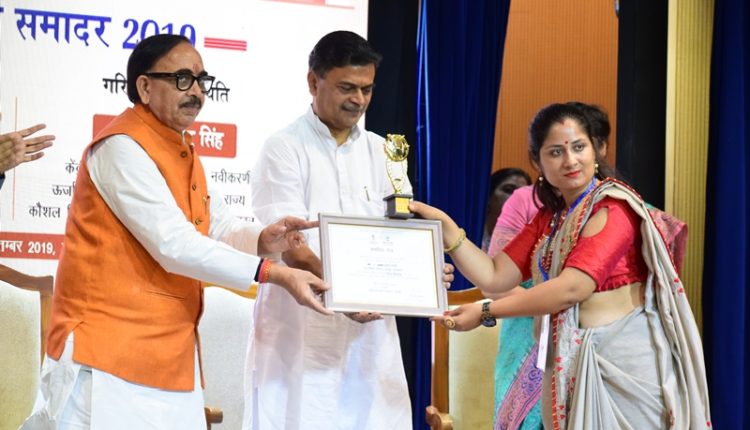 MSDE organizes Kaushalacharya Samadar 2019 to create future-ready and skilled workforce
Vishal Malhotra (Photo-Video) Lokesh Goswami Tennews New Delhi :
New Delhi: The Ministry of Skill Development and Entrepreneurship (MSDE) today organized Kaushalacharya Samadar 2019 to felicitate trainers from different sectors for exceptional contribution towards creating a future-ready and skilled workforce in a bid to motivate and incentivize more trainers to join the Skill India Mission.
Almost 53 trainers from diverse backgrounds including experts of World Skills Competition winners, trainers from National Skill Training Institutes (NSTIs), Industrial Training Centres (ITI), Jan Sikshan Sansthans (JSS) and trainers from reputed Corporate houses were honored at a gathering of government and industrial experts on the occasion of Teachers' Day by Skill India.
Union Minister for Skill Development and Entrepreneurship, Mahendra Nath Pandey said, "The Guru-Shishya parampara has been a unique feature of ancient Indian civilization, where our teachers imparted life lessons and skills to disciples. On this day, we honour our trainers who have imparted their learning to the youth and helped in moulding their careers. In order to motivate and recognize their contribution to the skilling ecosystem, I am happy to announce the Kaushalacharya Awards, an annual ceremony to celebrate the teachers who are pillars of the Skill India. It is only fitting that we honour our own Gurus, whom the global community has already recognized by showering rich accolades on skilled Indian youth at World Skills International at Kazan, Russia, a week ago."
Union Minister of State, Ministry of Skill Development and Entrepreneurship Raj Kumar Singh urging the industry to get into more longstanding partnerships said, "Industrialisation in India had for long been hamstrung by a dearth of skilled manpower. The Skill India Mission has addressed the need for an equipped and skilled workforce. We are looking at introducing degree programs for trainers to boost technical education and vocational training in the country. Today's event marks a special day where we celebrate all those trainers who have helped thousands of youth, and inspire many more technically equipped and experienced people to join the Skill India Mission."
Ministry announced the "Kaushalacharya Awards" would be an annual event to recognize the contribution made by skill trainers in the vocational training ecosystem.