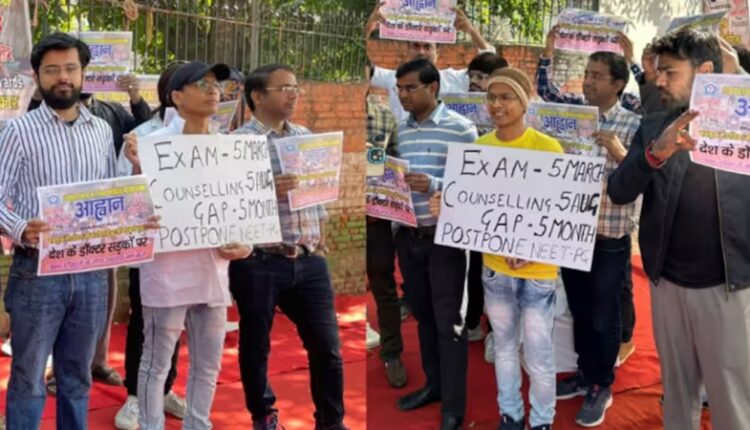 Delhi, India, February 8, 2023: A group of doctors, including NEET-PG aspirants, held a protest at the Jantar Mantar Road, Delhi, on Tuesday, February 7, 2023, to demand the postponement of the NEET-PG 2023 exams scheduled for early March.

The protest was organized by the Federation of All India Medical Association (FAIMA) and was aimed at pushing the NEET PG 2023 exams by two to three weeks to reduce the gap between the result declaration and the counseling process.
According to the calendar issued by the National Board of Examinations, the NEET PG 2023 exams are scheduled for March 5, with the results expected to be out by March 31, and the counseling process set to start in July 2023.
Dr. Manish Jangra, the founder of FAIMA, spoke about the protest and highlighted the large gap between the counseling and the examination date as the primary reason for the demand to postpone the NEET-PG entrance examination to May or June. He pointed out that the eligibility bar for interns is June 30, and the exam date is March 5, creating a large gap between the counseling and examination dates that could be utilized by students to study for the examination and pursue their preferred subject.
Jangra also expressed that this is the year where the healthcare sector has been heavily impacted by the Covid-19 pandemic, and the delays need to be adjusted accordingly. Hence, he requested the government to postpone NEET PG 2023 with immediate effect and allow the maximum number of interns to take part in the examination system.
The NEET-PG 2023 postponement demand has received widespread support from the medical community and NEET-PG aspirants. The Ministry of Health has yet to make a formal announcement regarding the demand.