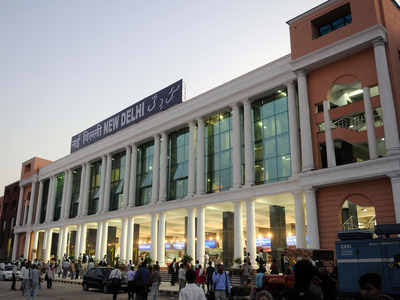 New Delhi railway station to get 100-foot-wide footover bridge
Saurabh Kumar/Lokesh Goswami Tennews New Delhi :
New Delhi: The New Delhi railway station is set to get a mega 100-foot-wide footover bridge (FOB) by next year aimed at handling a majority of the station's 3-5 lakh daily passenger load.
The planned FOB will be in addition to the three existing ones and will be equal in width to five conventional FOBs combined. It will run across all 16 platforms of the railway station and have provisions for seating, officials said, adding that kiosks are also under consideration.
The structure is a part of attempts by Northern Railways to ease congestion at the station. Officials said it would act as a "second platform" for passengers and take the load off the actual platforms.
They said the existing FOBs were not sufficient in handling the passenger load which can increase to around 5-6 lakh passengers daily during the festive rush period.
As part of the improvement plans, the New Delhi railway station recently saw a false ceiling installed at platforms 1 and 16 of the station. Officials say this is being replicated at the other platforms as well to give a modern look, commonly seen at airports. "Work on the false ceiling is already on and it will gradually cover all platforms," said an official.