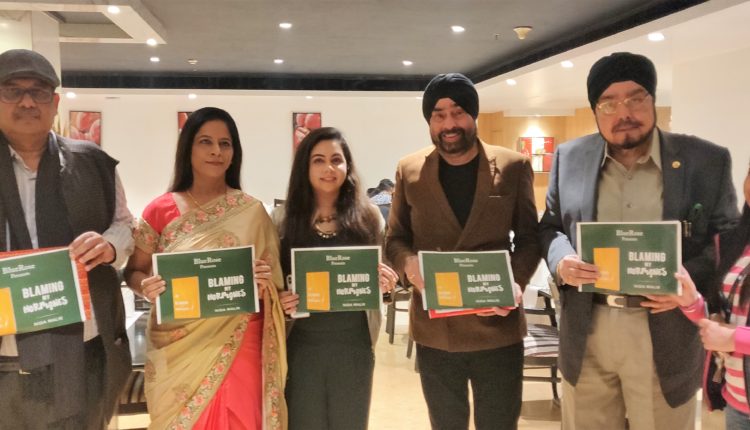 Nida Malik makes an impressive debut as Author with her first book "Blaming My Hormones".
By Bipin Sharma
Delhi based Nida Malik made an impressive debut as Author by penning her first book titled "Blaming My Hormones" at Hotel Taurus Sarovar Portico recently.
The book launch event was hosted by hotelier and philanthropist Kanwarjeet Singh Kochhar at Taurus Sarovar Portico, indubitably one of the most majestic properties in Mahipalpur on the Delhi-Gurgaon highway near the Airport.
The book launch was a well attended event that saw distinguished personalities like Dr PS Sabharwal (Retd bureaucrat), Alhaj S.R. Ali, Amanpreet Kaur (CEO, Balaji Media), Sidhartha Sen & Mahendra Awasthi (media personalities) in full attendance.
After the book launch event at Taurus, Nida launched her book at the World Book Fair 2019, Pragati Maidan, New Delhi.
Sharing details of her first book, Author Nida Malik said, "Blaming My Hormones is a fiction work that is about the life of four girls Anisha, Maira, Riya, and Radha who are suffering from a lifestyle syndrome related to hormonal imbalance. The story revolves around their struggles and consequences. When everything seems fine, a new challenge occurs with bigger difficulties and chaos. They believed that their temporary reliefs will last forever and that they had conquered from their health issues (hormonal imbalance), alas, destiny had something in store for them. In pursuit of permanent relief, they end up complicating their life even further. The lives of the four protagonists in the book are way too challenging than normal people. Besides, failure in relationships, the girls are devoid of emotional support from their family which subsequently adds to the mental stress thereby, adversely impacting their career, love life, and the present living.
The girls in life met at a point when they stopped trying, and instead started blaming their hormones without realizing the amount of toxification that they had subjected themselves to. It is really easy to blame everything possible around us, rather than realizing the stark reality and the facts responsible for ill health. "Blaming my Hormones" is not only the research of a lifestyle syndrome, known as Poly Cystic Ovaries Syndrome (PCOS), but is a complete package about how it is adversely affecting the lives of people all over the globe. If one studies it, it may seem to be simple, but in reality, it is far more complex than it seems to be.
The characters in the book are inspired by the real-life experiences of people who shared their life story with the author. Their lives are comparatively tougher than others because they are coping with the hormonal issues in addition to the day to day life problems. The plot revolves around the lives of characters, their complications, instability, love life, insecurities, and consequences. They are different in every aspect, the symptoms, situation, causes, and reasons as well. As luck would have it, the solution is hidden in the problem itself, and as the story progresses, unfolds the romance, drama and lot more to experience. The key objective behind the book being to spread positivity and give the readers a new found ray of hope."
Commenting on Nida's book, Kanwarjeet Singh Kochhar remarked, "The book tries to convey the message that problems are an integral part of life, and they won't bother us if we keep a positive attitude. Mistakes and failures are parts of trying, not the result. "Blaming my hormones" is not only the research of a lifestyle syndrome, known as polycystic ovaries syndrome, but a complete package about how it is affecting the lives of people. If one studies it, one may perceive it to be simple but it is far complex than it seems to be."
Continuing further, Nida adds, "I wish to convey my heartfelt gratitude to KS Kochhar for being a great pillar of support. When I was grappling with health complications as a young girl, I often felt low and negative so much so that it hampered the normal functioning of my hormones. The situation aggravated as it led to more problems eventually affecting my self confidence. Fortunately, my family's all round sterling support played a key role in not only bolstering my confidence levels, but also inspired me to make a mark in life by undertaking something worthy in life. Since a substantial part of my life journey was no less than a tragic tale itself, I decided to share my story with the world by penning a book. I did deep research to study how women cope with life's challenges and hardships. With the aim of understanding the problem better, I spoke with many women who had some or the other hormonal imbalance syndrome. Two years of intense research finally yielded rich dividends as I was successful in completing the book."
Voicing his opinion about the book, senior media personality Sidhartha Sen said, "As one reads the chapters, one can easily relate to the different complex situations of life. The book "Blaming My Hormones" is a fitting tribute to all those women who efficiently manage to maintain a balance between life's challenges and intricacies. The fact that reading researches are boring, Nida Malik converted the reality into fiction, and transformed them into intriguing stories of four girls. The book will surely help in busting myths about hormonal imbalances and other health complications. Kudos to Nida for mustering courage to take up such a bold and pertinent cause."