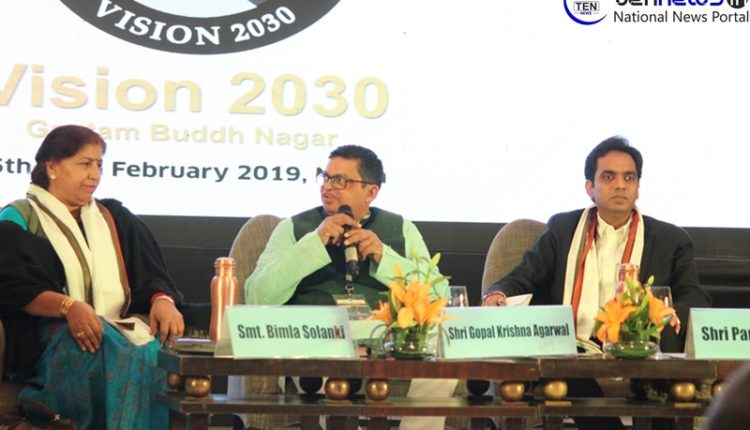 'Noida Dialogue' Ends on a Positive Note, Second Day Focuses on Housing, Agriculture, Education and Empowerment
Talib Khan / Baidyanath Halder

Noida (17/02/2019) : The second day of 'Noida Dialogue', focused on the topics of Housing For All, Education For All, Agriculture For Future and Empowered Citizens.
The panelist for all the sessions discussed on the main issues regarding these topics and shared opinions on techniques of solving these issues for the betterment of the society.
The first session of the second day, which was "Housing For All", was organized to discuss the issues regarding households of the district.
Abhishek Kumar, Panellist for 'Housing for all' session said,
House is not only an infrastructure built with bricks and cement. House is something that can never be destroyed by any natural calamity or other issues.
Gautam Buddh Nagar is developing at a very fast speed. Day by day parks are becoming parkings. House is not just a thing that surrounds us from all four sides but it should consist of facilities which provides us with proper sunlight, air and good green surroundings.
Rajive Kumar, Chairperson of RERA and another panellist said,
Gautam Buddh Nagar can turn into the smartest city if we work according to the plans that these eminent persons shared today. We have studied the development procedure of Singapore and generated these plans. There has always been a question about local self governance. When we talk about Gautam Buddh Nagar, then it is a place that is developing really very fast, I personally think that we won't be needing local self govt if we reach our goals in next 10 years.
We still remember how time changed. Initially we had yellow bulbs then we shifted to cfl and in no time we reached led lights. With time we have developed so our housing system should also develop according to the pace of development process.
Before the second session, a special Panel Discussion was organized in which Pankaj Singh, MLA of Noida and Bimla Singh Solanki, MLA, Sikandrabad shared their views on the ongoing problems of their constituencies.
Pankaj Singh said, We are living in a democracy so every citizen should have a right to give its opinion and suggestions for the betterment of the society. In Noida Slums are inscreasing along with Traffic problems and Schooling problems.
Govt schools have a really bad conditions. Through CSR I have talked to administration and 84 govt schools are adopted now and are being developed in every aspects. In UP govt schools does not held PTM, but in GBN every govt school hold PTM to enhance the efficiancy of the students. I am trying to bring AIIMS here. Traffic problems are being watched and works are going on to culminate these problems. By this year we are planning to install 650 cameras at the points decided by administration for the safety of noida residents. Law and order has increased in the district.
I have trust in government that people will get a MCD in the near future.
Bimla Singh Solanki said, "My constituency is a village area. We have different problems. We rely on government to do the welfare work. We have worked for pension schemes. Many problems of roads in the village are being resolved. Transport problem of Sikandrabad is my main point to work on it and solve this problem of transport for the people of Sikandrabad."
Panchayat can play a big role in the development of villages. They can make a master plan of villages and introduce it in front of government because the panchayat understand the problems of villages better. So if we develop Gram Panchayats, it surely can help in the development of villages. Now money from central government directly goes into the account of Gram Pradhan, middlemen are boycotted to save more money for the works and have a transparent working conditions.
The second session, "Education For All" discussed about the drawbacks the Indian Education have.
Panellist Raj Nehru said, The roots of the education system of India is destroyed in the British era. They dont believe in the education system of India. And transformed it into according to them. Unfortunately after the independence it was not changed or developed due to which we are having problems in upgrading our education system.
Another panellist, Praveen Kant said,
Most of education institution is lacking the ability to make the students understand the topics. Their focus is only to get the certificates or degrees. Nowadays the people who are becoming teachers are the ones who cant do anything.
We have to select teachers who are ready to chose teaching as his profession not only just to earn money but to give knowledge to the children. The ones who can educate students by their personalities and values not just by books and projects.
Third Session "Agriculture For Future" started with the quote of Siraj Hussain, a former IAS officer in Agriculture Ministry, who said that, "Only 612mm rainfall can be seen in Gautam Buddh Nagar, which is half as compared to other states. Water harvesting is the main point to be taken in view of the govt. Every big building whether school or an industry, it should be visited and checked by the authorities that they should be equipped with water harvesting techniques.
12000 hectare area in GBN doesnt even have tubewells.
Another Panellist, Dr. Tajamul Haque, said, From last 9 months vegetable inflation is in minus. Farmers are not getting what they are supposed to earn. To overcome this problem, Horticulture is a very important practice that can help in a solution of this problem. Peri urban areas should adopt horticulture.
We cannot fullfill the needs of 130 crore with organic farming. We are using enormous amount of pesticides. Which eventually harm the vegetables.
Genetically Modified crops are not harmful for the health. We just need to choose the better Genetically Modified crops which are best according to the condition of the surrounding.
The Fourth Session "Empowered Citizens" throw light on the basic problems of the citizens which are stopping the growth of the society.
Panellist Arvind Gupta, who is an ex-Indian Foreign Service Officer showcased the importance of E-Governance and said, "The advancement in technology brings out opportunities for the people using it.
E-governance aims to make certain common govt services accessible to the common man in his locality using the power of internet. It also ensures less corruption due to less human interface.
It also promotes transparency in administration by mandating that decisions and orders by admin authorities should be uploaded on govt websites.
Another Panellist, NP Singh, President of FONRWA, said, FONRWA has recently written a letter to Noida Authority demanding two seats in Noida Authority Board. It will not only give power to the RWAs of Noida but also provide the residents with a person who is easily accessible. The involvement of RWAs in decision making will enhance the works which authorities are doing for the betterment of the society. He also throw light on the problems of villages of GBN are facing due to the invalidation of the Panchayat Raj in the district.
Panchayat can understand the problems of villages deeply rather than administrative authorities. From being able to raise local issues with the democratically elected pradhans, the villagers are now compelled to run to the offices of Noida and Greater Noida authority. This invalidation of Panchayat Raj increase the distance between the citizens and the government.
The second day of 'Noida Dialogue' culminated with the Valedictory Session by Gopal Krishna Agarwal, National Spokesperson for BJP on Economic Affairs, and Patron of the 'Noida Dialogue', in which he summarized the two day activities and showcased the points which are taken in consideration to be sent further to the responsible authorities.