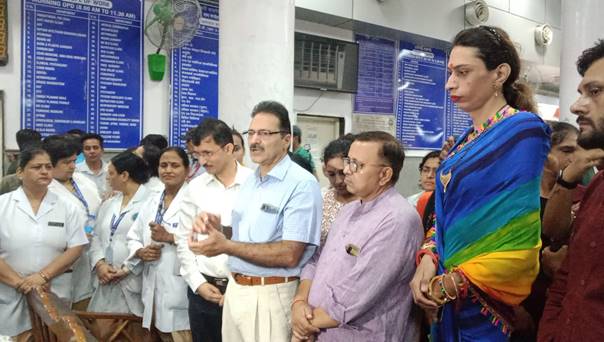 On the start of Sewa Pakhwada, Dr. RML Hospital inaugurates India's first dedicated OPD for Transgenders
Ten News Network

New Delhi (17/09/2023): On the start of Sewa Pakhwada, Dr. RML Hospital inaugurated India's first dedicated OPD for Transgenders today. The inaugural ceremony was led by Dr. (Prof.) Ajay Shukla, Director, RML Hospital.
The initiative is started with understanding of the difficulties encountered by transgender community to access healthcare services, largely due to discomfort and the fear of discrimination and social apathy. At India's first dedicated OPD for transgenders, they will be provided with following facilities in the speciality OPD clinic:
Free Treatment, investigations and sex change surgery.
Speciality OPD clinic for transgenders will be every Friday 2 to 4 p.m.
Separate OPD registration counter for these clinics to facilitate smooth process.
Endocrinology facility with Clinico-psychological assessment.
Plastic surgery facility for various related surgeries.
Dermatology facility for related issues.
Medicine (Physician) facility for various diseases.
Urology facility for various related problems.
Paediatrics facility for related issues.
All other related Blood investigations.
Separate washroom facility (Toilet for Gender Neutral/Transgender).
The initiative was appreciated by the Transgender community.