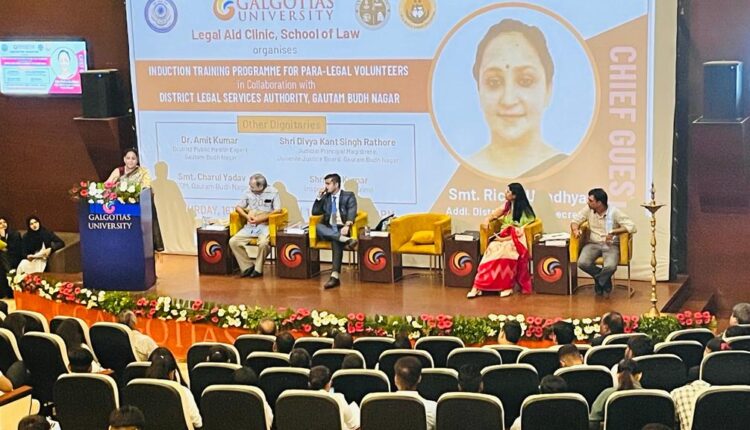 Para legal volunteers induction-training program organized in Galgotias University
TEN NEWS NETWORK

Para legal volunteers induction-training program was recently organized in Galgotias University.
Chief Guest "Additional District Judge" (Fast Track Court) District Gautam Buddha Nagar Richa Upadhyay gave information to the Para Legal Volunteers about Domestic Violence Act and Dowry Prohibition Act.
This induction training program for Para Legal Volunteers was organised by the District Legal Services Authority of Gautam Buddha Nagar in collaboration with the School of Law, Galgotias University.
"Paralegal Volunteers" from various universities like Asian Law College, Gautam Buddha University, Bennett University etc. participated enthusiastically in this training program.
The training program started with Saraswati Vandana and lighting of the lamp. Thereafter, Dr. Namita Singh Malik of Galgotias University warmly welcomed the various dignitaries present and introduced the panel of volunteers. She called upon the youth to understand their responsibility and commit themselves for community work.
Dr. Amit Kumar talked about the Medical Termination of Pregnancy Act 1971, in which he explained the legality of medical termination. In our days what is also called induced abortion and how married and unmarried women can avail services for it from anyone.
The next speaker Inspector Ajit, who has more than 5 years of experience in cyber crime, talked about some insights and how it is divided into 2 main parts i.e. Social Media Frauds and Financial Frauds. During his insightful interaction he asked various questions to the students and the volunteers were enthusiastically answering the questions. After this, Sir gave information about fraud and how to prevent oneself from falling into such a trap. He motivated the paralegal volunteers to spread awareness about brain hacking with caution.
Dr. Devanshi Singh Assistant Professor provided information to the volunteers about the challenges faced by working women and various benefits mentioned in the Maternity Benefit Act 1969, Equal Remuneration Act 1976 and talked about gender-centric laws and sexual harassment.
Divyakant Singh Rathore motivated the students to actively participate in law enforcement and gave a word on protection of civil rights as well as the procedure to be followed and possible consequences in case of missing of a child.
Ms. Richa Upadhyay, Secretary, DLSA spoke about the Protection of Women from Domestic Violence Act, 2015 and the PCPNT Act. She enthralled the gathering with her practical experiences and anecdotes.
Advocate Naresh Chandra Gupta concluded the session sharing his experience and wisdom of community work. The ceremony concluded with the national anthem.
This training program was organized by the Legal Aid Clinic of Galgotias University under the expert supervision of Dr. Namita Malik, Dean, School of Law and Dr. Narendra Bahadur, Coordinator, Legal Aid Clinic.