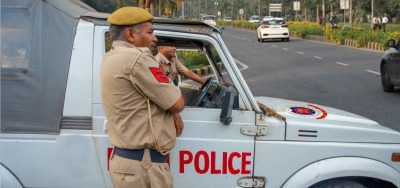 Opposition cries foul as Delhi Police raids journalists over UAPA case

New Delhi, Oct 3 (IANS) Opposition leaders on Tuesday slammed the Centre over the early morning raids on the premises of several journalists here and called it an attempt to silence them before the 2024 general elections.
Veteran leader and Rajya Sabha MP Kapil Sibal in a post on X, formerly Twitter said, "Early morning raids on journalists, satirists and activists in UAPA case. Objective perhaps : Silence them before 2024! Precursor for times to come!"
Congress Working Committee (CWC) member Gurdeep Singh Sappal in a post on X, said, "Crackdown on Journalists by Delhi Police: Yesterday was Gandhi Jayanti. In 1931, Mahatma Gandhi guided Jawaharlal Nehru in drafting the Karachi Resolution on Fundamental Rights in independent India. The first Fundamental Right promised to citizens of India was: Every citizen of India has the right of free expression of opinion, the rights of free association and combination, and the right to assemble peacefully and without arms, for purposes not opposed to law or morality."
He said that this resolution was placed just six days after the execution of Bhagat Singh, Sukhdev and Rajguru.
"Executed for what? Because they wanted their voice to be heard, their opinion to be expressed. But their voices fell on deaf imperial government. So they threw a bomb in the Assembly, surrendered, didn't contest their punishment and used the trial to send their message to the People of India," Sappal said.
He also highlighted that Karachi resolution's first Fundamental Right promised to the people of India that their Supreme Sacrifice will not go waste. Independent India will have freedom of expression.
"RSS was also formed by then. But never during the independence struggle did they promise Freedom of Expression and Association. There is not a single statement by their leaders, not a single resolution, not a single write up in support of freedom of expression. RSS never stood for freedom of expression. Naturally, the BJP never really believed in freedom of speech. It only paid lip-service to it, though it enjoyed the freedom to serve its own political goals," he said.
"So the crackdown on media and journalists is not just a matter of instant causation. It is an expression of the political philosophy of BJP or RSS, it represents the India they want to create surreptitiously. So mere condemnation of crackdown on journalists is not enough. Stand up to save India that was promised by the Independence Movement, crafted by the Constitution of India… by voting BJP out," the Congress leader said.
Rashtriya Janata Dal (RJD) Rajya Sabha MP Manoj Jha also slammed the government and said, "On the orders of the top, the police is showing its disgusting face in the houses of senior journalist cum thinker Urmilesh ji, Sohail Hashmi, Abhisar Sharma, Bhasha Singh, Sanjay Rajoura, Prabir Purkayastha, Anindyo Chakraborty and many colleagues. Many have been taken to Lodhi Road Police Station without any reason."
In another tweet, he said, "In these dark times, this is your SOP for those who refuse to join your group and ask you questions about freedom and justice for the underprivileged and the Bahujans. Now be prepared for retaliation…the struggle will again take place on the streets. If this is not the character of a fascist state, then what should we compare it to?"
Shiv Sena (UBT) Rajya Sabha MP Priyanka Chaturvedi slammed the government and in a post on X, said, "Unfortunate to see how media questioning the government is being muzzled through excessive use of power. The early morning raids on journalists by Delhi Police should be condemned by all. We are now a democracy where only lapdog journalism is allowed and the rest silenced."
The remarks from the Opposition leaders came in the wake of Delhi Police Special Cell carrying out searches at the houses of journalists and employees of the media outlet NewsClick in connection with allegations that the organisation received funding from China.
However, no arrests have been made so far.
During the raid, the Special Cell had also seized electronic evidence, laptops, mobile phones and also took data dumps of hard disks.
As per sources, the Special Cell has registered a fresh case under the Unlawful Activities (Prevention) Act (UAPA). Sources said that NewsClick's Abhisar Sharma, Bhasha Singh, Prabir Purkayastha, Anindyo Chakraborty and many others were raided by Delhi Police.
–IANS
aks/shb