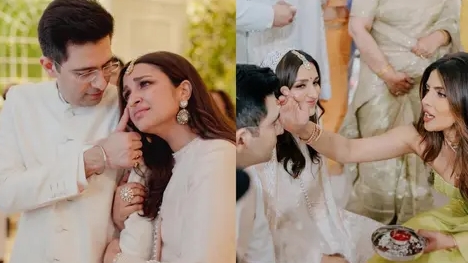 Parineeti Chopra shares more pictures from Engagement says, knew 'He was the One'
Ten News Network
New Delhi (India), 22nd May 2023: In an Instagram post, Parineeti Chopra said how she knew she'd "met the one" in AAP politician Raghav Chadha. Parineeti revealed behind-the-scenes photos from the couple's engagement earlier this month, along with a letter about how the romance began over breakfast and led to a "dream" engagement.

The images, which the pair had not previously released, feature several with the bride-to-be's family, including one of Raghav's cousin Priyanka Chopra applying tilak to his forehead. Another image depicts Parineeti and Raghav with her brothers Shivang and Sahaj, while a third depicts an emotional Parineeti holding to Raghav's arm.
Along with the beautiful pictures, Parineeti also shared a heartfelt note, "When you know, you know. One breakfast together and I knew – I had met the one. The most wonderful man whose quiet strength would be calming, peaceful and inspiring. His support, humour, wit and friendship are pure joy. He is my home. Our engagement party was like living a dream – a dream unfurling beautifully amidst love, laughter, emotion and loads of dancing!"
Further Parineeti added, "As we hugged those we loved dearest and celebrated with them, emotions overflowed. As a little girl in awe of princess stories, I had imagined how my fairytale would begin. Now that it has, it is even better than I had imagined."
On May 13, Parineeti Chopra and Raghav Chadha exchanged rings in an engagement ceremony in New Delhi. Priyanka Chopra flew in from Los Angeles, along with her Raghav Chadha's AAP colleagues Arvind Kejriwal and Bhagwant Mann, Congress leader P Chidambaram, Trinamool Congress' Derek O'Brien, and others were also present at the ceremony.