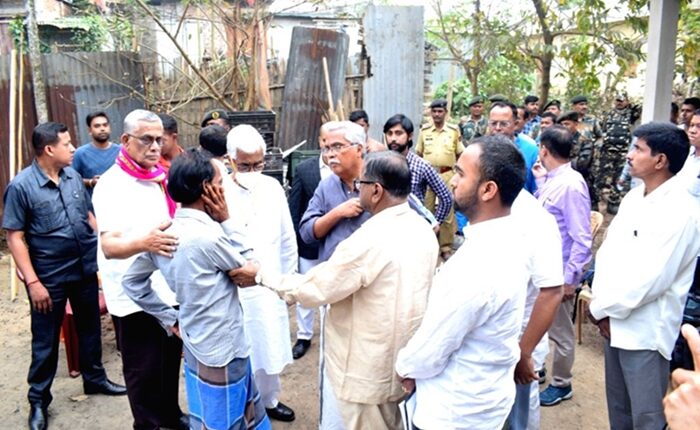 Parliamentary Team Attacked During Visit to Violence-Hit Areas in Tripura
Ten News Network
New Delhi (India), March 11, 2023: A parliamentary delegation that traveled to Tripura, a state governed by the Bharatiya Janata Party (BJP), to examine post-election political violence and interact with affected people, came under attack on Friday. The team was on a two-day visit.

According to Jitendra Chaudhury, Tripura's Communist Party of India (Marxist) state secretary and a former minister, the parliamentary delegation was forced to cancel their scheduled outdoor programs in the aftermath of a "horrific attack" at Nehalchandra Nagar Bazar in Bisalgarh on Thursday evening.
Sources from the Congress and CPI(M) parties stated that when the MPs visited the violence-stricken town of Bishalgarh in the Sepahijala district, a group of individuals supported by the BJP assaulted them and damaged three vehicles. The CPI(M) stated in a statement that "the MPs and the accompanying Congress and CPI(M) leaders quickly left the place and escaped the major attack."
At Mohanpur in western Tripura, BJP workers also impeded the parliamentary delegation. While making an unscheduled stop at Nehal Chandra Nagar in Bishalgarh, the MPs, along with local MLAs and leaders, faced sloganeering, according to a police statement.
The police escort team quickly responded and rescued the delegation safely. The statement noted that senior officers were at the scene and no injuries were reported, but two to three vehicles were damaged. One suspect has been detained, and raids are being conducted to identify and apprehend other offenders.
The incident was condemned by Congress leader Jairam Ramesh, who tweeted, "A delegation of Congress leaders was attacked by BJP goons today in Bishalgarh and Mohanpur in Tripura." The police accompanying the delegation did nothing. And tomorrow, the BJP is having a victory rally there. the victory of party-sponsored violence."
The parliamentary delegation, consisting of four Lok Sabha MPs and three Rajya Sabha MPs divided into three groups, is inspecting violence-stricken villages and urban areas in three districts: West Tripura, Sepahijala, and Gomati.
Local MLAs from both parties, including PR Natarajan, Ranjita Ranjan, AA Rahim, Abdul Khalique, Bikash Ranjan Bhattacharya, Vinay Viswam, and Elaram Karim, accompanied the delegation.