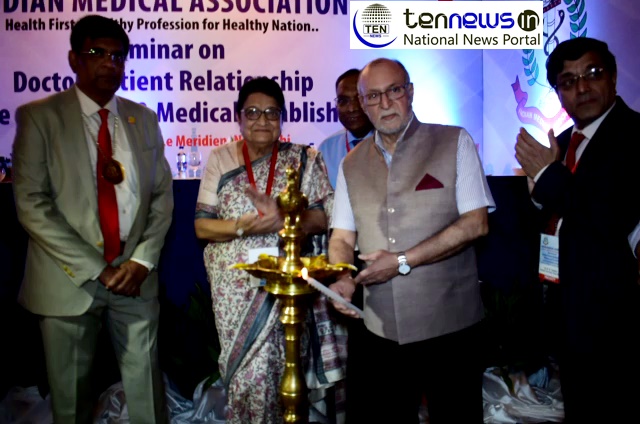 New Delhi: Demanding an absolute end to the violent episodes against the healthcare providers, the Indian Medical Association conducted a National seminar in New Delhi. The seminar was inaugurated by the LG Anil Baijal.
Speaking on the occasion LG Baijal said "Medical profession stands at the top in the list of serving humanity, but with shifting times we are facing a paradigm shift in the doctor patient relationship. Better understanding and realistic expectations from the patients will only lead to an improved doctor patient relationship along with empathy from the doctors. Aggression and impatience along with anger and agitation, among the young generation is solely responsible for the declining doctor patient relationship."
"To state emphatically, violence too has no place and no reason can justify any sort of threat or intimidation to the medical professionals by the patients and their families. According to a recent Global study, Doctors consultation in India on an average is less than two minutes for diagnosis and prescription. Such a short duration cannot establish any meaningful relation between the doctor and patient, which is one of the biggest problems that need to be resolved", added LG Baijal.
Speaking to Ten News, Ravi Wankhedkar, National President IMA said, "The healthcare professionals in India are the worst sufferers because of healthcare violence. It is beyond any doubt that the stress in the workplace have started affecting the quality of healthcare & acceptance of patients in indoor set ups. Doctors are living in fearful environment in their workplace."
Dr RN Tandon,Secretary General, IMA, while speaking to Ten News Said,
"IMA has advocated the ethical practice, healthy communications with patients, relatives & proactive measures like transparency in charges, Counsellors in hospital premises etc. Patient support Groups, Grievance Redressal Mechanisms, patients' rights & responsibilities are being implemented. But at any cost the violence against fraternity cannot be accepted in civilized society. IMA advocates policy of "React, Respond, Regulate & Reach out" for the fraternity to counter the violence."
Speaking to Ten News Exclusively , Dr. Santanu Sen, MP, said, "This discussion was need of the hour, The situation in India has reached a critical stage and warrants immediate intervention from the Government by bringing in a strong & effective Central Medicare Act. But the poor implementation, inadequate knowledge of police personnel, weak clauses makes these state Medicare acts absolute ineffective."
Although Patients were missing and their was poor attendance at the Seminar as more than Half of seats remained vacant after inaugural session. If this can be seen as any indicator the Seminar conducted to build Doctor-Patient Relationship was a complete failure.