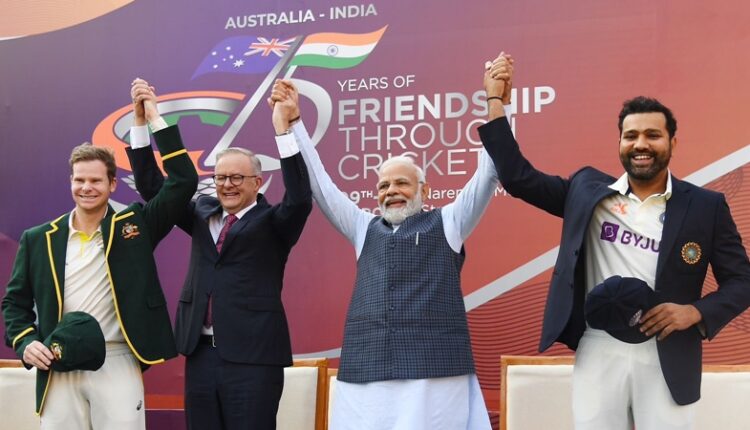 Ahmedabad (India), March 9, 2023: In a remarkable display of camaraderie, Prime Minister of India, Narendra Modi, and Prime Minister of Australia, Anthony Albanese, were warmly welcomed as they took a celebratory lap around the impressive Narendra Modi stadium in Ahmedabad.

The two leaders were cheered on by an enthusiastic crowd as they rode in a golf cart fashioned as a chariot, ahead of the fourth Test match between India and Australia. This display of friendship, even as their respective teams were competing to be the best in the world, was heartening. The Australian PM tweeted that while the two countries were fierce competitors on the field, they were collaborating to build a better world.
As two cricket-loving nations, India and Australia share a friendly yet competitive relationship based on a foundation of mutual respect and affection. The leaders presented test caps to their respective team captains and met with players from both sides, standing alongside them as the national anthems of India and Australia were sung. The two leaders also exchanged framed artwork, symbolizing 75 years of cricketing camaraderie between the two countries.
The Australian PM's state visit to India is a testament to the commitment to deepen ties between the two nations and become a force for growth and stability in the region. The trip began with a warm welcome from the Gujarat Chief Minister, Bhupendra Patel, who accompanied the Australian PM to Mahatma Gandhi's Sabarmati Ashram.
The Border-Gavaskar series currently has India leading by 2-1, and a win in the final Test match would ensure India's qualification for the final of the ICC World Test Championship, where they would compete against Australia in London from June 7 onwards.