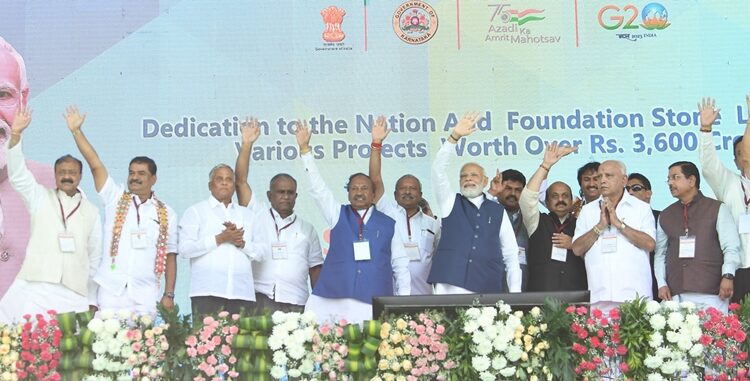 PM Modi inaugurates Shivamogga airport, lays foundation for multiple projects in Karnataka
Ten News Network

Delhi (India), February 27, 2023: Prime Minister Narendra Modi inaugurated the Shivamogga Airport in Karnataka on Monday, a move aimed at boosting connectivity and accessibility in the Malnad region. The new airport was developed at a cost of approximately 450 crores and features a passenger terminal with a capacity to handle 300 travelers per hour.
During the inauguration, former Karnataka Chief Minister BS Yediyurappa was also present, celebrating his 80th birthday. In his speech, PM Modi praised Yediyurappa for his dedication to the welfare of poor people and farmers, calling his recent speech in the Karnataka Assembly an inspiration for those in public life.
The prime minister also highlighted Air India's expansion plan and recent purchase orders from Boeing and Airbus, stating that "The airline was once discussed primarily for negative news during the previous regime but is now taking a new flight before the world in the form of India's new capability."
PM Modi laid the foundation stone for several other projects in Shivamogga, including two railway projects: the Shivamogga-Shikaripura-Ranebennur new railway line and the Koteganguru Railway coaching depot. The new railway line, aimed at enhancing connectivity of the Malnad region with the Bengaluru–Mumbai mainline, is estimated to be developed for 990 crores. The coaching depot at Shivamogga will help start new trains from the city and decongest maintenance facilities at Bengaluru and Mysuru.
The prime minister also laid the foundation stone for multiple road development projects, including the construction of a new bypass road for Shikaripura Town on NH 766C connecting Byndur-Ranibennur, the widening of NH-169A from Megaravalli to Agumbe, and the construction of a new bridge at Bharathipura in Thirthahally Taluk on NH 169.
Later in the day, PM Modi inaugurated the redeveloped railway station in Belagavi with world-class amenities. The Shivamogga Airport and other projects are part of the government's efforts to improve infrastructure and promote development in various regions of the country.